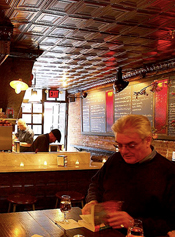 Wine enthusiasts always enjoy getting affordable wines with tasty food at restaurants. Throw in a winemaker and it becomes a real event! Fortunately, there are a few interesting such winemaker dinners coming on the calendar in NYC soon. Of note:
April 19 at Rouge Tomate: Michel Delhommeau of Muscadet and Laetitia Gendrier of Domaine Huards in Cheverny will be among eight Loire winemakers on hand for a four-course dinner. Wine reception starts at 6:30. $95+tax and tip. (646) 237-8977
April 22 at Dressler (Williamsburg): a five-course dinner with Klauss Gasser, winemaker at Cantina Terlano in Alto Adige. Features four wines from 2005. (718) 384-6343
April 22 at Crush Wine & Spirits: not a dinner but a free, "epic" (their word) tasting of Gruner Veltliner from producers including Nikolaihof, Prager, FX Pichler, Brundlmayer and more…(Unlike the others, no producers on hand for this event.) 5:30 – 7:30. Food pairings from Seasonal restaurant. Must RSVP: events@crushwineco.com
And two arranged through Chambers Street Wines:
April 22: the distinctive, oxidized whites and high-acid reds of Jura will be offered in a private room at The Ten Bells in a walk-around, mingling, small plate tasting. More than a half-a-dozen producers will be in attendance. $55. (212) 227-1434
April 23 at General Greene (Fort Greene): a four-course dinner with excellent Loire producers Francois Chidaine (Montlouis and Vouvray) and Mattieu Baudry of Domaine Bernard Baudry (Chinon). Six wines will be served including two Montlouis still wines as well as Baudry's top wine, La Croix Boisée. $90 (includes tax and tip) (212) 227-1434
UPDATE: Please note that the disruptions in European travel may have altered these events. Please double check with the organizers.