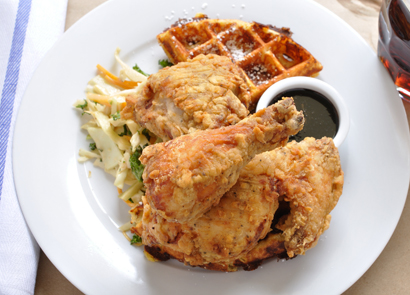 I recently met Doug Crowell, owner of Buttermilk Channel, a restaurant in Carroll Gardens, Brooklyn, that has an all-American wine list and emphasizes local food sources. He told me about an immensely popular dish on the menu: fried chicken and waffles.
I wondered how he pulls off this unlikely combination so I asked him to describe the preparation. He said that the chicken is soaked overnight in buttermilk, then floured and fried. The waffle batter is spiked with cheddar. The cole slaw is traditional; the sauce blends balsamic vinegar and maple syrup.
Sweet, savory, fat–the grand slam of flavor! Apparently so, given the popularity of the dish. As to the wine pairing, which way would you go for this dish? Or do all those flavors make it…impossible?!? Raise the degree of difficulty, if you so desire, by going with an American wine in honor of the spirit of their list.