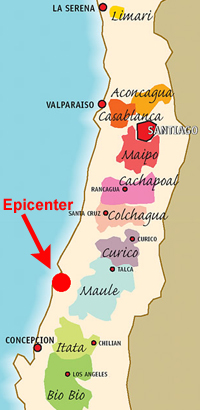 Tragedy struck Chile overnight on Friday in the form of a massive earthquake that has displaced two million people, severed north-south bridges in the narrow country, and killed hundreds of people (see coverage on nytimes.com).
Chile has a large, export-oriented wine industry. Some of infrastructure, particularly in the regions of Maule and Rapel (including Colchagua), has been damaged or destroyed. Contacted via email, Lori Tieszen, executive director of Wines of Chile USA, says that Jose Manuel Ortega reports "devastation" in Maule and that his winery sustained some damage; Julio Bouchon of J. Bouchon, "is safe but his beautiful old winery is leveled," Tieszen writes. In 2006, the Oxford Companion to Wine described Maule as "slowly changing its reputation of growing only bulk wine."
"One can smell wine along the roads in front of the wineries. Tanks laying, collapsed buildings, barrels and glass everywhere," winemaker Sven Bruchfeld told James Molesworth, wine critic for Chilean wine at Wine Spectator magazine.
Molesworth has been tweeting what he hears from wineries (follow his feed for the latest). Another source told him, "Big damage to the industry. Millions of liters on the floor." He also tweeted that Montes and Lapostolle were hit hard in Colchagua, an area that had seen lots of investment in the wine indsutry. Feel free to add news in the comments if you have updates.
Depending on the region and grape variety, the harvest has already started or was scheduled to start soon in the country.