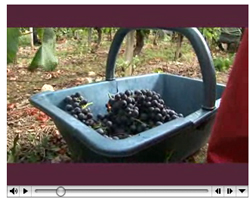 We're all snow-bound here in the northeast today. So rather than shoveling, kick back and check out the latest video from the annals of wine marketing! This one is from enzymes producer Novozymes and was sent in by site reader Damien.
Here's the video's pitch on why winemakers should use enzymes:
Major wineries produce large quantities of wine and as a result need to optimize their capacity by reducing production times. [image: hand harvesting] Enzymes are used by these larger wineries to speed up production process. Small wineries on the other hand are more interested in using enzymes to produce a higher quality of wine, particularly when the grape quality isn't the best.
Other quotage comes form their enthusiastic client, Ch. Tour Prignac, who says that they use it "to produce optimum quality and obtain a color fitting to a great, age-worthy wine."
They later elaborate that their products, under the VinoFlo name, offer deep colors and flavor intensity.