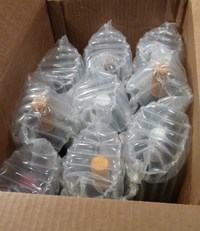 I got a few wines from Astor Wine & Spirits in Greenwich Village via UPS the other day. When I opened the box, there was no Styrofoam. There weren't any cardboard inserts. Instead, each bottle was wrapped in an inflatable plastic sleeve. It was the first time I'd seen this.
Styrofoam is popular with retailers and wineries shipping wine because it cradles and insulates the bottles. While it is ultralight, thereby reducing the carbon footprint of the shipment, it essentially never biodegrades. I always try to bring my Styro shippers back to a store so that they can be used again before their life taking up space in a landfill. One store, Grapes the Wine Company, actually includes a pre-paid label so consumers can return the empty box back to the store via Fedex for reuse and a store credit. Corrugated cardboard inserts are recyclable but they are quite heavy, increasing the carbon footprint. Pulp inserts are light and biodegradable.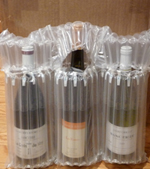 The plastic sleeves that Astor uses, branded as Air-Paq, are both light and recyclable (though they are resin code 7, which many municipalities don't recycle). Their staff inserts the bottles in the sleeve, then use a gizmo to inject the air and seal the sleeve (you can see a scintillating demo video here).
Reached via email, Andrew Fisher, owner of Astor, pointed out that it is much more space-efficient in their shipping area than Styrofoam, since there is just a plastic roll and a compressor. He elaborated, "Since Astor produces its own electricity and recaptures the waste heat to provide heating and cooling for our space, it seemed both incongruous and inconsistent to cling to Styrofoam shipping materials."
Each bottle rests in an independent sleeve from the others so it can also be separated and used again for your wine travel needs. Or, if you have two boys like us, they each can put them on a hand and have a sword fight!
Related: "Poll: Styrofoam or cardboard for your wine shipping?"