SPIT: "pinot noir"
Pinot or dunno? The cachet and appeal of the fickle pinot noir has led to a proliferation of low-priced pinots, which, by US law, must only contain 75 percent to state the grape on the label. Decanter reports that French authorities have brought charges against 13 defendants in the the south of France for stretching pinot more than that, selling the equivalent of 16 million bottles worth of cheaper merlot and syrah to E & J Gallo for their $9 Red Bicylcette pinot noir. The court will likely hand down its decision in two weeks.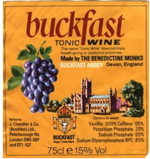 GULPED: "wine"
The scourge of Scotland is Buckfast tonic wine, caffeinated, sweet drink made by Benedictine monks. Weighing in at 15% alcohol and with the caffeine equivalent of eight cans of Coke, this low-priced drink has been dubbed "wreck the hoose juice" (hoose being the Scottish pronunciation of "house") or "commotion lotion." It has sparked a debate on whether to introduce minimum prices for alcoholic drinks in Scotland. [NYTimes.com]
SIPPED: wine in supermarkets
The editorial page of the NYT argues in favor of wine in grocery stores calling the campaign against it "an impassioned but utterly cynical defense of the little guy."
SIPPED: science!
Have a vineyard fungus? Science has a solution: liquid spray-on glass! All those pears grown in glass bottles, move over! [Telegraph]
SPIT: blogs for young people
Younger Americans, aged 12 – 29, are abandoning blogging in favor or Twitter and Facebook. Why? Too long – LOL! But the study from the Pew Internet & American Life Project does find blogging on the rise in ancient people (over thirty) where more than one in ten maintains a blog.