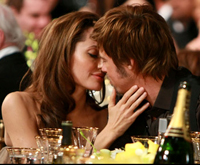 SPIT: wine reporting!
Brad Pitt and Angelina Jolie had a "stormy dinner date" with friends (including Alec Baldwin) at Alto restaurant in midtown Manhattan. This story says they had five bottles of wine with dinner, the friends left and then Brangelina exchanged barbs, with him telling her to get therapy and her telling him that she thinks he's "toxic!" Eeegad. But, really, the most important detail for wine enthusiasts was neglected: which wines did they have with dinner?!?
SIPPED: conflicting opinions
The Fifth Circuit Court of Appeals reversed a lower court decision that had found the wine distribution system in Texas unconstitutional. The lower court ruled that it discriminated against out-of-state distributors and retailers according to the Dallas Morning News. With the recent ruling in favor of free trade in Massachusetts, wine enthusiasts will be watching to see if the Specialty Wine Retailers Association appeals to the Supreme Court.
SPIT: wine tastings
Gideon Rachman bemoans a "new Puritanism" at Davos that has banned the epic wine tastings of previous years. Never fear: he was able to find one organized by Jancis Robinson off campus (at a Zurich airport hotel) with Krug, and Chateaus Cheval Blanc and Yquem.
SPIT: tariffs and taxes
Canadian wine lovers visiting America, someone's got your back: Charles Schumer! The NY senator is trying to have the 100 percent levy on wines brought into Canada to reduced to stimulate sales from NY wineries. On a related note, wineries that export receive almost full reimbursement of federal excise taxes and he also wants to keep that now-imperiled subsidy in place. [BusinessWeek]
SPIT: drinking national?
Imported wine sales rose in Australia — as well as in the US, where California wine sales fell for the first time in 16 years.
SIPPED: kind words
Vinography posts a favorable review of my book, A Year of Wine.
Fair use is made of a reduced size crop image from hell.ca