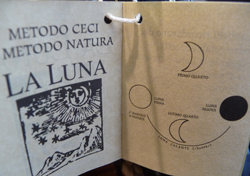 Are some in the wine trade exploiting consumers' willingness for environmentally friendly products when the practices don't measure up to more than a pile of manure? Consider an example.
In late summer, The Moment blog at nytimes.com wrote a paean to lambrusco, the purple fizzy wine from Emilia-Romagna. The author had high praise for one in particular: "a rustic biodynamic beauty from Cantina Ceci, whose mild, deep fizz buoys its brooding purple embrace." At least one New York City retailer also calls the $16 wine Biodynamic, a process of grape growing (and, to a lesser extent, winemaking) that goes beyond organic to synchronize some winemaking practices with the lunar cycle. Several other commentators have called it Biodynamic as well.
While the wine may be tasty, according to correspondence with Demeter Italy, the certifying authority in Italy, none of Cantine Ceci's wine has ever been certified Biodynamic .
In the case of the Ceci lambrusco, it has the packaging of an artisanal product with twine around the neck and closure. Each bottle comes with a small booklet explaining the phases of the moon and how harvesting occurs while the moon is a mere crescent, as happens both when it waxes and wanes. The wine is called "La Luna," meaning "the moon." It does not appear on the producer's web site.
In correspondence about La Luna, the wine's importer to the US, Rosalie Sendelbach, said that the wine:
use to be Certified biodynamic until 2007, certification is based on testing each year and also costs quite a bit. its is also some what political. They are considered biodynamic and but did not certified this year. Minimum sulfite is used according to each vintage year and natural sulfite present in the wine during fermentation.
Demeter Italy said, in response to an email query, that no wine has been certified from Cantine Ceci. Three emails over a period of weeks to the winemaker Alessandro Ceci seeking comment about grape growing and winemaking practices at the cantine have gone without reply. Nor has the importer replied to a further request for comment about the response from Demeter Italy.
The wines from Cantine Ceci have received praise from Gambero Rosso Italian Wines and the Italian Sommeliers' Duemila Vini: both list the Ceci estate and its many wines and consider it important, but there is no mention of organic or biodynamic production.
Jamie Wolff, a partner of Chambers Street Wines in Manhattan, a retailer that specializes in organic and natural wines, says "we do find more and more 'green' wines that make us raise our eyebrows." He continued, "it's important to get to know the people and visit so you get to know their intentions." Chambers Street sells the "La Luna" lambrusco, which Wolff said was popular. They do not market the wine as Biodynamic.
Tom Maresca, a longtime observer of the Italian wine trade, had this to say when queried about the situation:
Italians by and large love Americans: they think we are warm and friendly. Unfortunately, some also believe that we are absolutely stupid about wine, and those people really think they can sell us anything. So this could well be a reputable company dealing with the American market as it believes it must be dealt with, and consequently seeing no harm in a little imaginative embroidery. Or it could be more consciously larcenous than that. Or, finally, it could be exactly what it says it is. I'm afraid I can't really tell.
So what is a consumer to do? The shopper in a wine store can't independently verify the provenance of every bottle she picks up. There needs to be some truth in marketing, but who can verify the claims? Independent agencies who extract fees? Government regulators? Wine shop owners? Critics? Bloggers?
Incidentally, I inquired with another Italian winery recently about their organic program in the vineyards. By return email within an hour, I had–without even asking–a copy of their certificate in my inbox. Three cheers for transparency.
* * * * *
The Ceci "La Luna" label text as per Google translate:
The ancients drew attention to two fundamental concepts: 1) when the moon is rising and is approaching the Earth, causing an effects-building plans on the bodies. 2) when the moon is waning on the contrary leaves the earth, causing an effect on the bodies of emptying. Therefore, anything that has to do to grow (seeding, births, etc. …) should be done at a crescent moon, whereas everything that causes death (cuts, crops, etc …) should be done at the waning moon. Wineries and Wine Company CECI bottles its wines which originate from natural cultures always and only: a CRESCENT MOON! That is why our wine can be delivered only after a month of ordering.
A retailer's page showing the wine as Biodynamic: