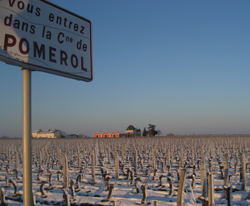 Bordeaux prices may be coming down sharply. But then will they be going up?
Diageo Chateaux & Estates was a major buyer of Bordeaux futures for the better part of the last three decades. In fact, according to one California wholesaler quoted in an AFP article, their buying (along with Costco), created "an artificial level of implied demand from the US — the wine estates set their prices based on this perceived demand."
But things changed. The wines of the rainy 2007 vintage received weak reviews on the whole and demand slackened for pre-buying during the recession. Diageo Chateaux & Estates had committed to the vintage as they had in the past. Now, they are left with a large inventory of wine that needs to be significantly discounted as it arrives in the US. According to the AFP story, they are dumping the 2007s and previous vintages on the US market to such an extent that trucks are even coming from Mexico to scoop up bargains!
While lower prices sounds like good news, the AFP story neglects the question of future vintages. The low prices of the 2007s may be fleeting because Diageo has now decided to get out of the Bordeaux futures business. As of the 2008 vintage, US retailers have had to pursue different, smaller scale strategies for buying Bordeaux wines as futures to the extent that there has been demand. Now the 2009 vintage has gotten huge advance praise and financial markets have rallied, replenishing the bank accounts of some Bordeaux consumers. So while the demand side for future vintages may be coming back, the economies of scale that DC&E had on the supply side have been removed making a tempting conclusion that prices will move higher.
However, if the Diageo demand was "artificial" as witnessed by the current dumping, the prices could remain lower for several years. And with so many lavishly praised recent vintages already available in the market, Bordeaux buyers may think twice about the need to buy futures on unbottled wine. Indeed, American buyers are "skeptical" according to a recent article on Dectanter.com.
For any retailers out there, what is your recent experience with Bordeaux futures and how will Diageo's bowing out affect the way you do business? And for consumers, is it "game over" or "game on" for Bordeaux futures?