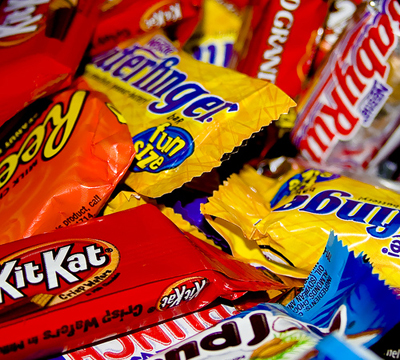 Halloween is a mere two days away and excitement is building around the Dr. Vino World Headquarters: for the kids, they're after the candy; for me, I can't wait to take down all the skeletons, ghosts and goblin decorations.
As candy washes over the country these days in a giant, wrapper-encrusted wave, it seems only timely: which wine goes with Halloween candy? Or is it impossible?!?
Please make your candy suggestions as trashy as possible–no gourmet chocolates here, just Reese's peanut butter cups, KitKats, Almond Joy, Butterfinger, Pop Rocks and/or Necco wafers.
For those of you who cannot fathom pairing candy and wine, then play sommelier for Paul Rudnick: as profiled in yesterday's NYT, the 51 year old man weighs 150 pounds and subsist almost entirely on candy.