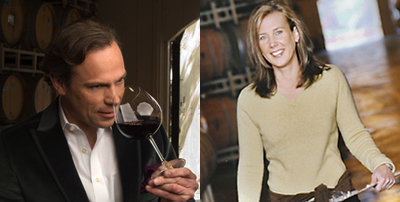 SIPPED: match made in a barrel room
Jean-Charles Boisset and Gina Gallo married over the weekend in a private ceremony at the San Francisco Fairmont according to winemag.com. Each is a wine scion: Boisset Family Estates is the third largest wine company in France and E&J Gallo Winery is the largest in the world. They both have wineries and vineyards in Sonoma.
SPIT: trophies
Dick Grace of Grace Family Vineyards tells the SF Chron "the pendulum has swung too far" on the cult wines he pioneered: "We have to get over what I call the trophy mentality."
SPIT: more trophies
"If I buy a bottle for $100 from Napa Valley — and believe me, there are hundreds — I'll mark it up to $225. But no one is buying those," Rajat Parr wine director at RN74 in San Francisco told CNN in a piece entitled "wine buying for vultures." As a result, Parr is "saying no to all Napa Cabernets until customers drink what's left."
SIPPED: a new chapter
Mariann Fischer Boell, the EU Commissioner for Agriculture who oversaw a controversial reform of the wine sector in 2007, has announced she won't seek another five-year term. [MFB blog]
SIPPED: bigger Terroir in NYC
Marco Canora and Paul Grieco tell Grub Street that while they're leaving Insieme (boo hoo) they will be adding a newer, slightly larger Terroir wine bar in Tribeca (yay!). We look forward to adding it to the map of the best wine bars in NYC!