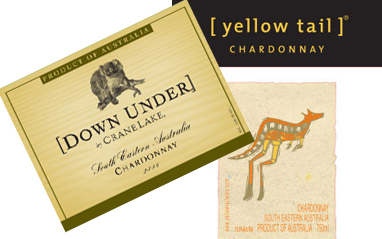 The Wall Street Journal reports today that Casella Wines, the maker of [yellow tail], has sued two companies associated with Fred T. Franzia over their new Australian wine, Down Under. Franzia's Bronco Wine Co. also makes "Two Buck Chuck."
The suit, filed in U.S. District Court in Manhattan yesterday, alleges that the label for [Down Under] is substantially similar to and infringes on the trademarked label for [yellow tail].
"Bronco's use of Casella's iconic square brackets and its use of Australian-centric wording in connection with the sale of Australian wine are likely to confuse consumers," the lawsuit said.
[Down Under] sells for about $3, or half the price of [yellow tail]. Both wines come in high-shouldered bottles and have duotone capsules as seen in the image after the jump.
If you were presenting evidence to the judge, what would you say in this case?
Lawsuit details: Casella Wines Pty. Ltd. v. Bronco Wine Company et al; Court: New York Southern District Court; Court Case Number: 1:09-cv-07127-RJH; Judge: Richard J. Holwell