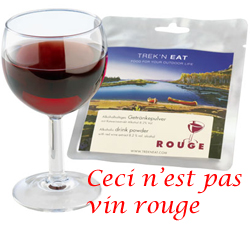 SIPPED: Desperation!
The Swiss water purification company, Katadyn, has a wine-like product for non-discriminating, thirsty trekkers. They market a red wine powder that hikers can take on the trail, add some of their purified water, and voila, wine! Only they won't call the 8% alcohol drink "wine," mostly because the association of Chianti producers has complained. Katadyn's defense: "We are well aware that we're not even permitted to call the product wine. No grapes were used in its production, it's simply a product that is flavored to taste like wine." Coming next year: powdered beer. [Der Spiegel]
SPIT: family relations
Gary Heck of Korbel has sued his daughter, Richie Ann Samii, for defamation in postings on Craigslist. She denies the allegations in the Sonoma Press Democrat. The two are also involved in legal maneuverings over a multimillion dollar stake in the company.
SIPPED: fraud
Why do the empty wine bottles that fetch the highest prices on eBay correlate with those that are the most expensive and presumably authentic when full? An academic study (in progress) suggests counterfeiting. [Freakonomics]
SPIT: fraud
Researchers at the University of Bourgogne in Dijon have developed a way to track the barrels used for aging a wine: using a mass spectrometer. Each forest has an identifiable fingerprint for its lumber and that can be traced for 10 years after leaving the barrel. The researchers suggest that it could prevent fraud in wine, passing off a less expensive wine as a pricey one. But perhaps its best use might be to track whether the barrels came from the same pricey forest they claim to be from–or a low cost competitor. [New Scientist]
SIPPED: Wine paraphernalia on display
The Art Institute of Chicago has a two-month exhibit called "A Case for Wine: From King Tut to Today." They describe the exhibit as the first of its kind at "tracing this beloved libation's surprisingly significant role as a stimulus and source of artistic endeavor."
SIPPED: red wine in the Tour
And if you were third overall in the Tour de France, what would you imbibe the evening before the rest day? Check out Lance Armstrong's tweet for his answer: "Made it to Limoges…Gonna have dinner, drink a glass of red wine, talk to my kids, and crash out!!" Hopefully it was the real deal and not the powdered "wine."