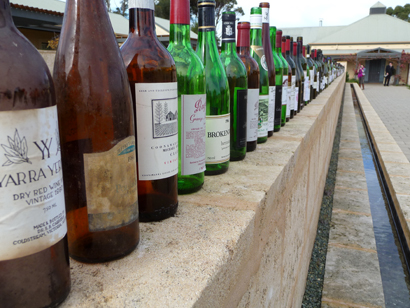 I'm back from the fantastic Landmark Australia Tutorial. Above is a picture of (some of) the wines opened during the tremendous five days. Yes, it's 249 bottles of wine on the wall!
Over the next few days and weeks, I'll be posting on and off some of highlights of the conference/event, sharing my new found knowledge. Really, I could post about each and every session since they were all so interesting and informative. But I'm not turning this into an Australian wine blog (though I do wonder why there isn't one of those focusing on the lesser-known wines; it could even be called "beyond the fruit bomb"). If you'd like to have a similar experience applications are apparently now open for the Tutorial in 2010.
After the jump, check out the above lineup in motion as I walked down the line with the video rolling. Also, check out a complete list of wines, broken down by session.
Day One
Australia's Regional Classics (1C)
2008 Grosset Wines Polish Hill Riesling, Clare Valley
2002 Pewsey Vale The Contours Riesling, Eden Valley
1998 Tyrrell's Wines Vat 1 Semillon, Hunter
2005 Leeuwin Estate Art Series Chardonnay, Margaret River
2006 Petaluma Piccadilly Valley Chardonnay, Adelaide Hills
2006 By Farr Sangreal Pinot Noir, Geelong
2001 Cullen Wines Diana Madeline Cabernet Sauvignon/Merlot, Margaret River
2004 Wynns Coonawarra Estate John Riddoch, Cabernet Sauvignon, Coonawarra
1998 Brokenwood Graveyard Vineyard Shiraz, Hunter
2004 Mt Langi Ghiran Langi Shiraz, Grampians
2006 Henschke Mt Edelstone Shiraz, Eden Valley
2004 Penfolds RWT Shiraz, Barossa Valley
2006 Glaetzer Anaperenna Shiraz/Cabernet Sauvignon, Barossa Valley
2006 De Bortoli Noble One Botrytis Semillon, Riverina
Australia's Fine Wine
NV Pirie Sparkling Chardonnay/Pinot Noir, Tasmania
1998 Jacob's Creek Steingarten Riesling, Barossa
2005 Jacob's Creek Steingarten Riesling, Barossa
2009 Jacob's Creek Steingarten Riesling, Barossa
1998 McWilliam's Mount Pleasant Lovedale Semillon, Hunter
2003 McWilliam's Mount Pleasant Lovedale Semillon, Hunter
2007 McWilliam's Mount Pleasant Lovedale Semillon, Hunter
1989 Yarra Yering Dry Red Number 1 Cabernet Sauvignon, Yarra Valley
1997 Yarra Yering Dry Red Number 1 Cabernet Sauvignon, Yarra Valley
1980 Yarra Yering Dry Red Number 2 Shiraz, Yarra Valley
1994 Yarra Yering Dry Red Number 2 Shiraz, Yarra Valley
2000 Domaine A Cabernet Sauvignon, Tasmania
2001 Dalwhinnie Eagle Series Shiraz, Pyrenees
2004 Dalwhinnie Eagle Series Shiraz, Pyrenees
All Saints Estate Museum Release Muscat, Rutherglen
Day Two
Riesling (2A)
2007 Kilikanoon Mort's Reserve Riesling, Clare Valley
2005 Mount Horrocks Riesling, Clare Valley
1992 Petaluma Hanlin Hill Riesling, Clare Valley
2002 Grosset Polish Hill Riesling, Clare Valley
1973 Leo Buring DWC15 Riesling, Clare Valley
2002 Peter Lehmann Reserve Riesling, Eden Valley
1999 Pewsey Vale The Contours Riesling, Eden Valley
1980 Pewsey Vale Rhine Riesling Riesling, Eden Valley
2007 Seppelt Drumborg Riesling, Henty
1996 Crawford River Riesling, Henty
2007 Frankland Estate Isolation Ridge Vineyard Riesling, Frankland River, Great Southern
2003 Craigow Riesling, Tasmania
Shiraz and Blends (2B)
1990 Craiglee Shiraz, Sunbury
1991 Plantagenet Shiraz, Mount Barker, Great Southern
1991 Henschke Mount Edelstone Shiraz, Eden Valley
1991 Wendouree Shiraz, Clare Valley
2006 Shaw + Smith Shiraz, Adelaide Hills
2006 De Bortoli Reserve Release Shiraz, Yarra Valley
2006 Giaconda Warner Vineyard Shiraz, Beechworth
2006 Mt Langi Ghiran Langi Shiraz, Grampians
2006 Seppelt Mt Ida Vineyard Shiraz, Heathcote
2006 Clarendon Hills Astralis Vineyard Shiraz (Syrah), McLaren Vale
2006 Charles Melton Grains of Paradise Shiraz, Barossa Valley
2006 Clonakilla Shiraz/Viognier, Canberra District
2006 S.C. Pannell Shiraz/Grenache, McLaren Vale
2006 Spinifex Indigene Shiraz/Mataro, Barossa Valley
2006 Wendouree Shiraz/Malbec, Clare Valley
2004 Penfolds Grange Shiraz/Cabernet Sauvignon, Multi-region South Australia
An Historic Perspective (2C)
1954 Seppelt Great Western Hermitage K72 Shiraz, Great Western, Grampians
1955 Penfolds Bin 95 Grange Shiraz/Cabernet Sauvignon, Multi-region South Australia
1955 Wynns Coonawarra Estate Michael Shiraz, Coonawarra
1962 Penfolds Bin 60A Cabernet Sauvignon/Shiraz, Coonawarra / (Kalimna) Barossa Valley
1971 Penfolds Grange Shiraz/Cabernet Sauvignon, Multi-region South Australia
1982 Wynns Coonawarra Estate John Riddoch Cabernet Sauvignon, Coonawarra
1985 Wendouree Shiraz, Clare Valley
1986 Henschke Hill of Grace Shiraz, Eden Valley
1986 Brokenwood Hermitage Graveyard Vineyard Shiraz, Hunter
1990 Mount Mary Vineyard Lilydale Cabernets Quintet, Yarra Valley
1995 Cullen Wines Cabernet Sauvignon Merlot, Margaret River
1996 Clarendon Hills Astralis Vineyard Shiraz (Syrah), McLaren Vale
1996 Penfolds Block 42 Kalimna Vineyard Cabernet Sauvignon, Barossa Valley
1996 Best's Wines Thomson Family Great Western Shiraz, Great Western, Grampians
1998 Petaluma Coonawarra Cabernet Sauvignon Merlot
1999 Torbreck Run Rig Shiraz Viognier, Barossa Valley
2001 Bass Phillip Reserve Pinot Noir, South Gippsland
2001 Clonakilla Shiraz Viognier, Canberra District
2002 Seppelt St Peters Great Western Shiraz, Great Western, Grampians
2004 Balnaves of Coonawarra The Tally Cabernet Sauvignon
Masters of Wine
2001 Yarrabank Late Disgorged Sparkling Chardonnay/Pinot Noir, Yarra Valley
1998 Tahbilk Marsanne, Nagambie Lakes, Goulburn Valley
2004 Tahbilk Marsanne, Nagambie Lakes, Goulburn Valley
2008 Tahbilk Marsanne, Nagambie Lakes, Goulburn Valley
1996 d'Arenberg The Ironstone Pressings Grenache/Shiraz, McLaren Vale
2002 d'Arenberg The Ironstone Pressings Grenache/Shiraz/Mourvèdre, McLaren Vale
2006 d'Arenberg The Ironstone Pressings Grenache/Shiraz/Mourvèdre, McLaren Vale
2006 John Duval Wines Plexus Shiraz/Grenache/Mourvèdre, Barossa Valley
2005 John Duval Wines Eligo Shiraz, Barossa Valley
2006 John Duval Wines Entity Shiraz, Barossa Valley
1992 Yalumba The Reserve Cabernet Sauvignon/Shiraz, Barossa
1996 Yalumba The Reserve Cabernet Sauvignon/Shiraz, Barossa
2002 Yalumba The Reserve Cabernet Sauvignon/Shiraz, Barossa
Disgorged 2008 Rockford Sparkling Black Shiraz, Barossa Valley
Day Three
Semillon and Sauvignon Blanc (3A)
1998 Tyrrell's Wines Vat 1 Semillon, Hunter
1999 Brokenwood ILR Semillon, Hunter
2002 Peter Lehmann Margaret Semillon, Barossa Valley
2003 Tempus Two Copper Zenith Semillon, Hunter
2005 Vasse Felix Semillon, Margaret River
2006 McWilliam's Mount Pleasant Lovedale Semillon, Hunter
2008 Thomas Wines Braemore Individual Vineyard Semillon, Hunter
2009 Shaw + Smith Sauvignon Blanc, Adelaide Hills
2008 Angullong Sauvignon Blanc, Orange
2008 Logan Sauvignon Blanc, Mudgee
2008 Goundrey 'G' Sauvignon Blanc/Semillon, Mount Barker, Great Southern
2006 Cape Mentelle Walcliffe Sauvignon Blanc/Semillon, Margaret River
2008 Brookland Valley Semillon/Sauvignon Blanc, Margaret River
2007 Rosemount Show Reserve Semillon/Sauvignon Blanc, Western Australia
2007 Lenton Brae Wines Wilyabrup Semillon/Sauvignon Blanc, Margaret River
Cabernet Sauvignon and Blends (3B)
2005 Mount Mary Quintet Cabernets, Yarra Valley
2005 Howard Park Abercrombie Cabernet Sauvignon/Merlot/Cabernet Franc, Great
Southern/Margaret River
2005 Cape Mentelle Cabernet Sauvignon, Margaret River
2005 Woodlands 'Colin' Cabernet Sauvignon, Margaret River
2005 Sandalford Prendiville Reserve Cabernet Sauvignon, Margaret River
2005 Château Mouton Rothschild Cabernet/Merlot/Cabernet Franc/Petit Verdot, Pauillac
2005 Parker Coonawarra Estate Terra Rossa First Growth, Cabernet/Merlot, Coonawarra
2005 Majella The Malleea Cabernet Sauvignon/Shiraz, Coonawarra
2005 Henschke Cyril Henschke Cabernet/Merlot, Eden Valley
2005 Wendouree Cabernet Sauvignon Malbec, Clare Valley
2005 Hardys Chateau Reynella Basket Press Cabernet Sauvignon, McLaren Vale
2005 Penfolds Cellar Reserve Cabernet Sauvignon, Barossa Valley
An Alternative View (3C)
2008 Henschke Littlehampton Innes Vineyard Pinot Gris, Adelaide Hills
2008 Delatite Pinot Gris Upper Goulburn
2008 Yalumba The Virgilius Viognier, Eden Valley
2006 Castagna Ingénue Viognier, Beechworth
2008 Giaconda Aeolia Roussanne, Beechworth
2008 Dal Zotto Arneis, King Valley
2008 Crittenden Estate Los Hermanos Albariño, Mornington Peninsula
2008 Spinifex Lola Semillon/Marsanne/Viognier/Ugni Blanc/Grenache Blanc/Vermentino, Barossa Valley
2008 Quealy Senza Nome Tocai Friulano, Mornington Peninsula
2008 Coriole Fiano, McLaren Vale
2008 R Wines Mod Gamay, Geelong
2007 Greenstone Vineyard Sangiovese, Heathcote
2007 Gemtree Vineyards Bloodstone Tempranillo, McLaren Vale
2002 Hewitson Old Garden Mourvèdre, Barossa Valley
2006 Arrivo Lunga Macerazione Nebbiolo, Adelaide Hills
2007 Luke Lambert Wines Nebbiolo, Yarra Valley
1998 Pizzini Nebbiolo, King Valley
2005 Boireann Tannat, Granite Belt
2006 Cobaw Ridge Lagrein, Macedon Ranges
2007 First Drop Minchia Montepulciano, Adelaide Hills
Slow Food, Slow Wine
2005 Jansz Rosé Pinot Noir, Tasmania
Avonmore Organic Pale Ale
Pennyweight Woody's Amontillado Palomino, Beechworth
2008 Sutton Grange Winery Fairbank Rosé Syrah/Cabernet/Merlot, Bendigo
2008 Lucy Margaux vineyards & Àuge Ristoranté Vino d'Àuge Saignée Sangiovese, Adelaide Hills
2008 Gemtree Vineyards Moonstone, McLaren Vale
2008 Moondarra Holly's Garden Pinot Gris, Gippsland
2007 Ngeringa Viognier, Adelaide Hills
2007 Bass Phillip Estate Pinot Noir, South Gippsland
2002 Castagna Genesis Syrah, Beechworth
2006 Ngeringa Syrah, Adelaide Hills
2002 Castagna La Chiave Sangiovese, Beechworth
2005 Castagna Un Segreto Sangiovese/Shiraz, Beechworth
2007 Cullen Wines Mangan Merlot/Malbec/Petit Verdot, Margaret River
2008 KT and The Falcon Melva Riesling, Clare Valley
2008 Lethbridge Kabinett Riesling, Geelong
2004 JE Ngeringa Altus Pink Semillon, McLaren Vale
2007 Sutton Grange Winery Ratafianovese Fiano/Sangiovese, Bendigo
Day Four
Chardonnay (4A)
2006 Tyrrell's Wines Vat 47 Chardonnay, Hunter Valley
2006 Cullen Wines Kevin John Chardonnay, Margaret River
2006 Vasse Felix Heytesbury Chardonnay, Margaret River
2006 Leeuwin Estate Art Series Chardonnay, Margaret River
2006 Shaw + Smith M3 Chardonnay, Adelaide Hills
2006 Tapanappa Tiers Vineyard Chardonnay, Adelaide Hills
2006 Giaconda Chardonnay, Beechworth
2006 Bindi Wine Growers Quartz Chardonnay, Macedon Ranges
2006 Stonier Wines KBS Vineyard Chardonnay, Mornington Peninsula
2006 Oakridge 864 Chardonnay, Yarra Valley
2006 TarraWarra Estate MDB Chardonnay, Yarra Valley
2006 Freycinet Chardonnay, Tasmania
2006 Hardys Eileen Hardy Chardonnay, Regional Blend
2006 Penfolds Yattarna Chardonnay, Regional Blend
Pinot (4B)
2007 Stoney Rise The Holyman Pinot Noir, Tasmania
2007 Bindi Wine Growers Block 5 Pinot Noir, Macedon Ranges
2007 Yabby Lake Vineyard Pinot Noir, Mornington Peninsula
2006 Stefano Lubiana Estate Pinot Noir, Southern Tasmania
2006 Kooyong Single Vineyard Selection Ferrous Pinot Noir, Mornington Peninsula
2006 TarraWarra Estate MDB Pinot Noir, Yarra Valley
2007 Felton Road Block 5 Pinot Noir, Cental Otago
2003 Ashton Hills Estate Pinot Noir, Adelaide Hills
2003 Paringa Estate Reserve Pinot Noir, Mornington Peninsula
2002 Domaine de la Romanée Conti Romanée St Vivant Pinot Noir, Vosne Romanée, Burgundy
1999 Mount Mary Pinot Noir, Yarra Valley
1997 Bass Phillip Premium Pinot Noir, South Gippsland
1997 Bannockburn Serré Pinot Noir, Geelong
1992 Coldstream Hills Reserve Pinot Noir, Yarra Valley
Blending the Rules (4C)
2005 Plantagenet Shiraz, Mount Barker, Great Southern
2006 Glaetzer Amon Ra Shiraz, Barossa Valley
2005 Brokenwood Graveyard Vineyard Shiraz, Hunter Valley
2004 Torbreck Run Rig Shiraz/Viognier, Barossa Valley
2002 Penfolds Grange Shiraz/Cabernet Sauvignon, Multi-region South Australia
2005 Hardys Eileen Hardy Shiraz, McLaren Vale
2004 Henschke Hill of Grace Shiraz, Eden Valley
2004 Clarendon Hills Astralis Vineyard Shiraz (Syrah), McLaren Vale
2007 Clonakilla Shiraz/Viognier, Canberra District
2005 Clayfield Wines Shiraz, Grampians
2006 Two Hands Wines Bella's Garden Shiraz, Barossa Valley
2005 Penfolds Bin 389 Cabernet Sauvignon/Shiraz, Multi-region South Australia
2005 Seppelts St Peters Shiraz, Grampians
2005 Majella Cabernet Sauvignon, Coonawarra
2005 Cullen Wines Diana Madeline Cabernet Sauvignon/Merlot, Margaret River
2006 Balnaves of Coonawarra The Tally Cabernet Sauvignon, Coonawarra
2006 Woodlands Reserve de la Cave Cabernet Franc, Margaret River
2004 Moss Wood Cabernet Sauvignon, Margaret River
2005 Wynns Coonawarra Estate John Riddoch Cabernet Sauvignon, Coonawarra
2002 Wendouree Cabernet Sauvignon/Malbec, Clare Valley
Australian Fine Wine 2030
2006 Petaluma Croser Pinot Noir/Chardonnay, Adelaide Hills
2005 Radford Wines Riesling, Eden Valley
2008 KT and The Falcon Peglidis Vineyard Riesling, Clare Valley
2006 Savaterre Chardonnay, Beechworth
2007 The Lane Beginning Chardonnay, Adelaide Hills
2004 Main Ridge Estate Half Acre Pinot Noir, Mornington Peninsula
2007 Tapanappa Foggy Hill Vineyard Pinot Noir, Fleurieu Peninsula
2008 Tapanappa Foggy Hill Vineyard Pinot Noir, Fleurieu Peninsula
2005 Mitchelton Crescent Shiraz/Mourvédre/Grenache, Nagambie Lakes, Goulburn Valley
2006 Mitchelton Crescent Shiraz/Mourvédre/Grenache, Nagambie Lakes, Goulburn Valley
1998 Wirra Wirra The Angelus (Dead Ringer) Cabernet Sauvignon, McLaren Vale
2004 Wirra Wirra Dead Ringer Cabernet Sauvignon, McLaren Vale
2006 Wirra Wirra Dead Ringer Cabernet Sauvignon, McLaren Vale
2007 The Yard Riversdale Vineyard Cabernet Sauvignon, Frankland River, Great Southern
2007 Cherubino Cabernet Sauvignon, Margaret River
2005 Stanton and Killeen Vintage, Rutherglen
Day Five
Sparkling (5A)
2005 Domaine Chandon Z*D Vintage Blanc de Blancs Chardonnay, Yarra Valley
2004 Yarra Burn Blanc de Blancs Chardonnay, Yarra Valley
2004 Josef Chromy Wines Pinot Noir/Chardonnay, Tasmania
2004 Brown Brothers Patricia Pinot Noir/Chardonnay/Pinot Meunier, King Valley
2003 House of Arras, Arras 'Grand Vintage', Chardonnay/Pinot Noir, Tasmania
2002 Domaine Chandon Vintage Brut Late Disgorged Chardonnay/ Pinot Noir/Pinot Meunier, Yarra
Valley
2001 Jansz Late Disgorged Chardonnay/Pinot Noir, Tasmania
2000 Hardys Sir James Tumbarumba Pinot Noir, Chardonnay, Pinot Meunier, Tumbarumba
1998 Petaluma Croser Proprietor's Reserve Pinot Noir/Chardonnay, Adelaide Hills
1998 House of Arras, Arras Late Disgorged, Chardonnay/Pinot Noir, Tasmania
NV Hanging Rock Cuvee VIII Macedon Late Disgorged Pinot Noir/Chardonnay, Macedon Ranges
MV Bay of Fires Rosé Pinot Noir/Chardonnay, Tasmania
2005 Domaine Chandon Brut Rosé, Pinot Noir, Yarra Valley
1994 Seppelt Show Sparkling Shiraz, Grampians
Fortified (5B)
Morris Show Amontillado, Rutherglen
Seppeltsfield Museum Oloroso DP104, Rutherglen
Seppeltsfield 2005 Vintage, Barossa Valley
Seppeltsfield DP90 Rare Tawny, Barossa Valley
Grant Burge 30 year old Tawny, Barossa Valley
Penfolds Great Grandfather Series 1, Barossa Valley
Campbells Isabella Rare Topaque Muscadelle, Rutherglen
Seppeltsfield Paramount Rare Topaque Muscadelle, Rutherglen
Morris Old Premium Liqueur Topaque Muscadelle, Rutherglen
McWilliam's Show Reserve Muscat, Hunter
Morris Old Premium Liqueur Muscat, Rutherglen
Campbells Merchant Prince Rare Muscat, Rutherglen
Chambers Rare Muscadelle, Rutherglen
1928 Morris Liqueuer Muscat, Rutherglen
Seppeltsfield 1909 100 year old Para, Barossa Valley