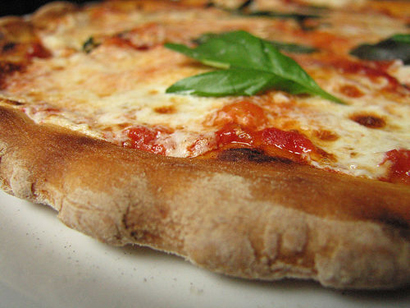 Unlike our impossible food-wine pairings, pizza is one of those very possible wine pairings. But not in one country: Italy.
Jeremy Parzen pointed out this shocking claim in the comments of a recent post on his blog : "…no one pairs wine with pizza in Italy! I'm sorry, they just don't…" He added later via email, "like Italians' aversion to dairy and fish, or coffee and savory, the pizza/beer pairing is relatively sacred… they never pair pizza with wine… wine lists in Italian pizzerie are for tourists." (Let's hope they're not pairing the lackluster Peroni with that pizza.)
Forbidden as it may be in Italy, prove the Italians wrong and tell us what is your preferred pairing for a pizza margherita? Are you in the white, light red (Barbera, Chianti), or the full-bodied (Nero d'Avola, Shiraz, Zinfandel) camp? I prefer reds with higher acidity to cut through the protein and fat of the cheese and stand up to acidity in the the tomato.
I suppose if we really wanted an impossible food-wine pairing, there's always deep dish pizza…