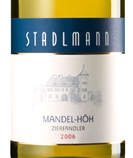 The other day I had a great Zierfandler. How often can you say that?
Made by Weingut Stadlmann in Austria's Thermenregion region, to the south of Vienna, the white wine comes from the 45 year old Zierfandler vines of the Mandel Hoh vineyard. The 2006 has aromas somewhat akin to Marsanne or other Rhone whites, with a hint of peach, white flowers, quince, minerals, slight alcohol and minerals. The wine has a beautiful, arching minerality on the palate and is completely dry. I went back to it on day two and found it to be one of the rare wines that actually improves on when open for a day so decanting could be in order. A wine of this quality and limited production for under $30 is a real find (find this wine) .
By chance, I encountered another wine from Stadlmann, their Rotgipfler, on a wine list on Friday at lunch. Also, viscous and minerally, this wine has aromas of poached apple while, again, being completely dry. It paired perfectly with parsnip soup. And at under $15 retail (find this wine), I'm going to snag a few more bottles. And I've written about their value pinot noir before. Stadlmann is one to watch!