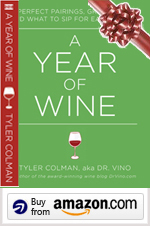 Dear Dr. Vino,

My parents live in the San Francisco Bay Area, and are huge wine connoisseurs. I would like to give them a copy of "Wine Politics" for the holiday season, and it would be quite special if I could procure a signed copy; do you sell signed copies of your books for fans and admirers?

Thanks! All the best,

– Leigh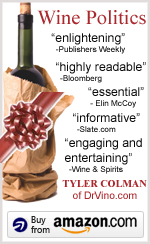 Absolutely! Getting into the holiday spirit, I'd be happy to sign copies of my books for site readers. I'll do what I did for Leigh: just ask you to PayPal me $25 (tyler at drvino dot com), which covers the Amazon price, New York sales tax, and then USPS priority shipping back to you (domestic orders only). Please note that I can fit two books in a flat rate mailer so you can supersize your order and get two signed copies for the bargain $45–woohoo! Unfortunately, my elves can't do gift wrapping for you so you may want to have it sent to your own address. Make haste since this offer expires on December 20!
Also of note, there's also a Kindle edition of A Year of Wine! I can't sign that one though.
Thanks for your support of this blog with your purchases of my books, either signed or unsigned! Cheers.