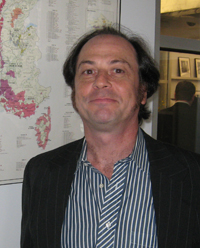 If VOS Selections were a wine consumer, the company would just be allowed to drink. The boutique wine importer and distributor, based in New York City, is celebrating its twenty-first year. I dropped by their trade tasting on Monday and sat down with president and founder Victor Owen Schwartz to ask him four questions. What follows are his juicy thoughts on the dollar and wine prices, strikes, the summer from hell, Greek wines, the word of the day ("autochthonous"), and why he's drinking rosé all year long.
What are you most worried about this fall?
Well, a few things. The high-end market has been very weak. So I'm worried about our Burgundy promotion. The 06s are really delicious wines but of course more expensive than the 05s and there is a good amount of 05 in the market.
Another thing I'd be worried about is price deflation. We importers have been taking it in the neck with the weak dollar, obviously, and I wonder if the market is going to be asking for big discounts because they see the uplift in the exchange rate. The market is going to yell when the prices go up but ya know, they're not really happy about it. You're never really increasing your prices enough to cover, really. But see prices going down—my guess is that's going to happen in January. If the exchange rates hold, you're going to start to see discounts. You have prices going down, you have a weak economy, what's the result of that going to be? And of course being in New York where Wall Street is a big part of the overall business, I think that reverts back to my original point about the high end, which has been weak all year.
What are you most excited about this year?
The stronger dollar! I would be very excited by a stronger dollar.
Are you locking it in?
To a certain degree, yes, such as my allocation of Cotes du Rhone or Chateauneuf du Pape, such as Paul Autard. We're looking to set prices early in the year, lock it in, and make up a few dollars that we lost. So that's important. I think we're going to see these exchange rates through the end of the year because there's talk about interest rates going up. I'm very excited by us, as a company, getting much stronger in Greek wines where we're doing importation directly. We've added a new winery, which had been in the market already but is new to our portfolio, Kir-Yianni, one of the top top top players in Greek wine. So that I am very excited about.
And I'm just excited to have some wine in stock! This summer across the board has been the summer from hell for shipping. I don't know if you've heard much about this but there were strikes in Argentina, Italy, and France. It's gotten very little play in the news—I do not know why. These ports were shut down. Normally we ship wine out of Le Havre in France but we had to have it trans-shipped out of Antwerp, Belgium at great expense. We had a container that left Greece and then went by way of Romania, you know, up in the Black Sea! Crazy stuff! People had no rosé this summer! Crazy stuff! So I'm just happy to have wine in the warehouse. That's a good thing. It's been really rough this summer.
And Greek wine—tell me why you're excited about wines from Greece?
For many reasons. As an area, I'm always excited by places that have autochthonous—there's a word for you!—varieties, something distinctive. Some people bring up South African wines, but there's nothing to get excited about from there. Ooh another Chardonnay! When you go to a place that has distinct varieties, that has distinct terroirs, what's not to be excited by. That's what got me excited about Hungary and Argentina. For me personally, as an importer and distributor, that got me excited.
And then there's what's going on with Greek wine making. It's very exciting. They're not making the oxidized wines any more. They're really spending money on technology—technology can be a good thing, properly, it's not all new oak chips. It's temperature controls! It's non-oxidized wine. But the number one reason I'm excited about them is because they fit the flavor profile of what we want today. Wines with not a lot of oak, good acidity, flavorful—that's why we love sauvignon blanc and pinot noir. To me those are the futrues of wine profiles—not that they are going to taste like sauvignon blanc and pinot noir, but these wines have the profile of the wines—the attack, the finish, the acidity, the oak regimen. Good fruit, clean bright flavors, lively, food friendly, they fit our market perfectly. They have a great story to tell.
Rosé—summer wine or all year wine?
We have been selling rosé all year round. I'm happy that the rosé revolution happened on the other hand, I'm less happy since I've been a touter of rose since day one, we can sell rose every year, and now everyone's got rose! There are so many roses in the market now. We have certain roses, one from Argentina and a cabernet franc from Chinon in the Loire—those are perfectly geared for year-round selling—and we sell them year round! Obviously it is a big push until the summer, but we sell them year round. It's really happening.
As an importer and a distributor I try to strategize: this is a rose that will be selling in summer; this is one that will sell in winter. which kind will sell when. [A winter rose] is a Malbec, cabernet franc, they have more mouthfeel, a little more richness; they're almost like red wine….Any time there's a boom, whether it's from Argentina or it's rose, there's a lot of crap. I find that there are a lot of roses that don't understand roses! Someone heard roses are happening! So we need one! But they're gloppy and they're sweet. To me the bar is set in Provence. Like it or not–it's kind of like French cooking. You don't have to cook like a Frenchman, but that's where it starts! At least for Western cuisine. It's the benchmark and you take it from there. It's like that for rose. Beautiful fruit, delicious acidity, goes well with so many foods—rose is definitely becoming all year round. And it's a great trend! At the beginning I had two roses, then we added another one—now we have 21 roses!