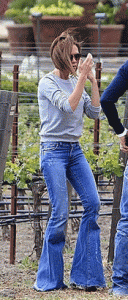 Could it really be true that David Beckham bought his wife Victoria (fka "Posh") a winery in Napa for (only) "seven figures" for her recent birthday? So reported the Sun in the UK. Apparently the couple got into wine while he was playing for Real Madrid and, now living in California, may have taken the plunge. However, the fact that it remains unobserved in wine circles makes me skeptical that it really happened. But let's talk about it anyway!
A columnist on MSNBC later reported on other reporting, looking for a motive:
"David feels like Victoria needs something to do other than shopping and going to parties," a source told Full Disclosure. "He is hoping she will get into the wine business and settle into some kind of regular routine."
Ouch! SFLuxe.com throws cold water on the idea of their buying a property, instead suggesting they bought into The Napa Valley Reserve. A $150,000 deposit buys the right to purchase wine, from a half a barrel to three barrels. Members can be as involved as they like, picking grapes off the vine (in stilettos?) or punching down the cap.
What should be the name of their wine? The Sun suggested Chateau Posh, describing it as thin bodied.
If they do buy a winery, they would be the latest celebrities to buy one. Brangelina recently signed a long-term rental in Provence and Johnny Depp bought Venssa Paradis a vineyard there as well.