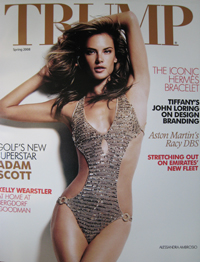 "You're hired!" Those may not be the words that many people hear from The Donald. But I did.
OK, not from him personally. But the editor at the newly reborn TRUMP magazine. I contributed two wine stories to the current issue, which, as you can see, does NOT have The Donald on the cover! Take that, Oprah!
Although I originally took the assignment to satisfy my inner bling, I actually wrote a story about (wine) travel in the Loire based on our family vacation last summer, tasting wines at the legendary Domaine Huet and storming some of the castles. The other story is about Crushpad, a custom winery in downtown San Francisco.
You can pick up a copy of the magazine at any Trump property, or city with a Trump property such as New York City, Chicago, Palm Beach, Dubai and Atlantic City.