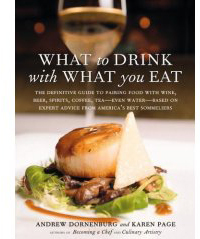 The good people over at Forbes have assembled a pageview-baiting slide show with some top chefs and foods and wines that made them sing. Not literally, but you get the idea.
So let's help them out with some content for their next slide show: what's a particularly memorable food-wine pairing that you thought might work out but went awry, perhaps horrendously? While wine can no doubt conquer any culinary terrain as we have seen in our "impossible food-wine pairings," there are still some clunkers that knock your world rather than rock it. Take, for example, zinfandel and grilled eggplant, which I paired one day only to the effect of unleashing tannin-on-tannin warfare in my mouth.
Hit the comments with your clunkers and you will be entered into a random drawing to win a prize: a new copy of the comprehensive food pairing book What to Drink with What You Eat, by Karen Page and Andrew Dornenburg.
Post your comment by Monday to qualify, check back here on Tuesday to see if you were the winner.