SPIT: dollars!
I was just poking around on this web site and I came across some prices of the previous vintages of wines currently in the market. The Loire, Rhone, Champagne, Beaujolais–many prices have risen, sometimes 20 percent in a year! Eeegad. Ben Bernanke, importers, where's our price stability?! We might have to cut back.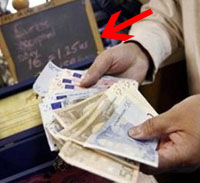 SIPPED: euros in New York!
Robert Chu, a wine retailer in the East Village is accepting euros for payment. Financial site Minyanville suggests that the "euros accepted" sign is, in fact, a contrary indicator and foreshadows a dollar rally. As lovers of imported wine, we can but hope! (But why did they neglect the supermodels refusing dollars as payment as a contrary indicator a few months ago?) Did they check out the generous (for him) rate of 1E = $1.25 he charges? (Thanks, Mark!)
SIPPED and SPIT: American wineries!
A Silicon Valley Bank report claims that 51 percent of US wineries will have new owners by 2018. But with the dollar so low, how many of them will be foreign? [PR Newswire]
SIPPED: diversity!
Dr. Vino makes a suggestion for a way to play the weak dollar, but not here, instead, on Reuters.
Image: a reduced-sized, reworked crop of an image attributed to Shannon Stapleton/Reuters.