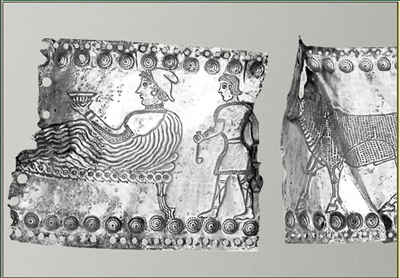 This ancient land was known for precious metals and wine–a fine pairing for any society! If we were teleported there right now, we could try wine from gold or silver vessels while wearing gold-spangled robes. And you thought wine and bling was sooo 2007!
In fact, some residents were so rich that they were buried with their gold wine service. And some were so kinky as to be buried with their servants or horses. But that doesn't concern us.
Get a load of that silver cummerbund thing above! The scene depicts some grand poobah, complete with five o'clock shadow, getting served wine. Peeled grapes coming up next, no doubt.
Archaeologists have also unearthed a shrine to the god of wine complete with a large, ornate bronze cauldron presumably filled with the fruits of the vine.
Where was this ancient land? And why is it timely now? Win our respect and admiration–and a link back to your site if you have one–by being the first with a correct answer in the comments below.
UPDATE: We have a winner–in record time! RichardA nailed it that it is ancient Colchis in modern day Georgia. The society felt the influence both east and west in the form of Persia and Greece. Chaz nailed the timely relevance since the exhibit ""Wine, Worship & Sacrifice" runs through February 24 at the Sackler Gallery of the Smithsonian. He even gave you the link to the exhibit! Here's a map to help you get a better lay of the land.
I'm not going to be able to see the exhibit myself. But I'm looking forward to the sword and sandals movie set in Colchis with Brad Pitt.