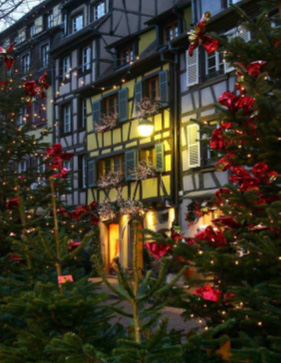 Time for a holiday edition of where in the wine world are we?! Although no vines are in this shot, it is in the heart of a wine region. And one where they know how to celebrate Christmas in style, as you can see.
Win our admiration and respect with a correct guess in the comments below!
UPDATE 12/26 with location revealed!: Wow, such amazing precision. Many close guess and a couple right on. Sorry, not talking about Solvang this time.
In fact, it is in Alsace! This is in the town of Colmar, which has been celebrating Christmas in style for more than 500 years. They illuminate the old town at night, have an outdoor ice rink in the Place Rapp, five markets on other squares and many other festive events running throughout advent until the new year. One reader wrote that "it looks like a fairytale come to life."
Sounds like god stuff! And with many wine producers in the region, it would be fun indeed. See more details and photos on the official tourist bureau site.
Congrats to Carlos, Greg, and JdW who all got the region right. And major congratulations to Stephen and Rory who nailed Colmar exactly!