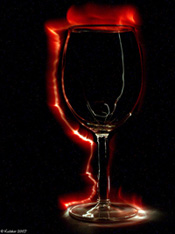 Is the backlash against "hedonistic fruit bombs" gaining speed? Previously in the year we've noted that they don't age, a retailer who refuses to sell wine over 14.5% alcohol, and a Napa winemaker who said "higher alcohol wines should stop."
Now, the recent developments:
1. Neal Martin, a meta-critic at Robert Parker's The Wine Advocate, trashes the 2003 Bordeaux vintage.
2. Garagiste wines, the Parker darlings (such as Jean-Luc Thunevin of Valandraud who has admitted that Parker "made" the property with his reviews), are seeing less interest at auction. In her review of the year in wine auctions, Elin McCoy writes on Bloomberg: "Not everything was selling. At Sotheby's, buyers passed on once popular Bordeaux garagiste wines like Monbousquet…"
3. I spoke with a head buyer at a leading wine store in NYC recently and he told me that sales of Australian wines over $10 are down 60% at his store over the past three years. I expressed surprise. He said he's talked to other buyers and they have noticed similar softening. Why? "I guess people are people are starting to realize that with that sort of wine, you don't really gain a lot over $10," he said.
Have your say in the latest poll!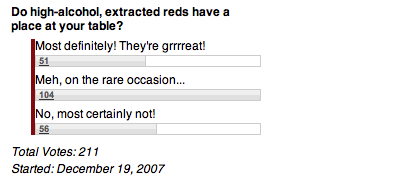 poll now closed
(image)