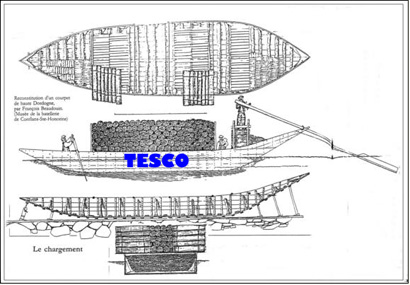 Tesco Merlot, at seven knots
The British supermarket is transporting some wine via barge in canals to reduce emissions. This comes after the retailer started importing wine from Australia in bulk tanks thus "saving 15,840kg of imported glass" per container. Here, here! Did Tesco just became the odds-on favorite for the Dr. Vino green wine retailer of the year? Maybe. Depends how much air conditioning is on ye olde Tescoe barge. [Guardian]
Sideways, the musical?
Wine has conquered the silver screen with Sideways and two forthcoming wine movies. Now our favorite beverage turns its sights on Broadway (well, off-off Broadway). Michael Green, Gourmet wine contributor, is the force behind the interactive production that encourages the audience to "see, swirl, smell, sip, and savor WINE LOVERS — a romance in six glasses." On their web site, Green says that it's a send-up of the "theatricality" of wine education–wait, he doesn't mean my forthcoming class, does he? Limited run, Dec 1-3, 8-10.
Glug, glug: Thanksgiving edition
You know what you poured at Thanksgiving. But what about everybody else? Dr. Debs linked to Cellartracker, a wine cellar management tool, sorted by open date. In my tryptophan haze, I found it a fascinating snapshot of almost 10,000 wines poured. The top six producers were American. [cellartracker]
E-tailer goes bricks and mortar
While most wine retailers struggle to work out selling wine over the internet, Wine.com opens it's first "bricks and mortar" location, a 2,000 sq ft store, in Berkeley. [PRnewswire]