Book authors may not always envision their book covers the same way the publisher's graphics team sees them. Sometimes a manuscript that the author has spent hundreds of hours on can be diluted by slap-dash cover art. And sometimes the graphic designer really "gets" the book and the image is good for a thousand words–or more!–of the book.
Here are some notable wine books and/or covers from 2007. Hopefully, we'll judge them by more than just their covers soon. Check them out–then vote for the best cover art, after the jump! (And if you think they're all "ick," feel free to say that too.)
House of Mondavi: The Rise and Fall of an American Wine Dynasty by Julia Flynn Siler ($28, Gotham Books)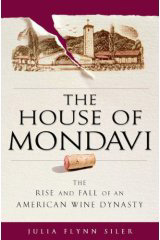 The World Atlas of Wine, sixth edition Hugh Johnson and Jancis Robinson ($50, MITCH)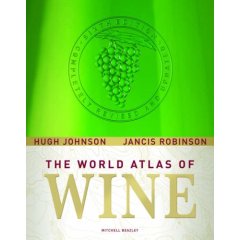 Questions of Taste: The Philosophy of Wine, Barry Smith, ed. ($27.95, Oxford University Press)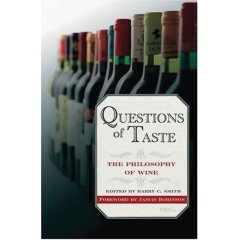 Wine and Philosophy: A Meritage of Vintage Ideas. Fritz Allhoff, ed. ($19.95 paper, Blackwell)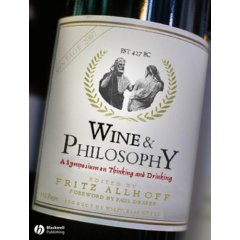 To Cork or Not To Cork: Tradition, Romance, Science, and the Battle for the Wine Bottle, by George Taber ($26, Scribner)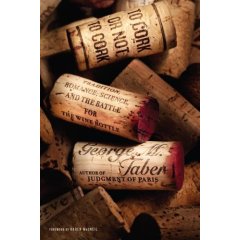 New Classic Winemakers of California: Conversations with Steve Heimoff, by Steve Heimoff ($27.50, University of California Press)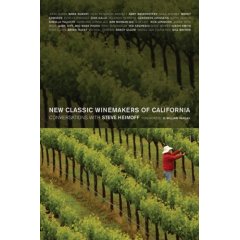 The Red Wine Diet, Roger Corder ($15.95 paper, Avery)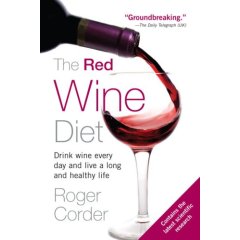 First Big Crush: The Down and Dirty on Making Great Wine Down Under, by Eric Arnold. ($24, Scribner)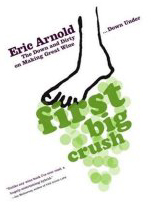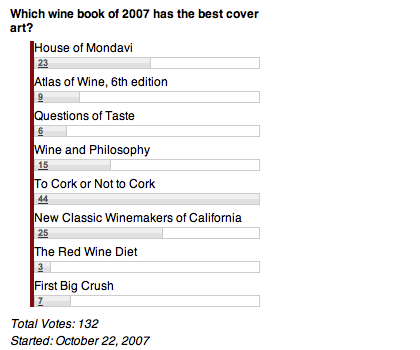 Poll now closed
Note: the links on this page to amazon.com are "affiliate" links. In the event that you click through and buy a book, I would receive a tiny referral fee.