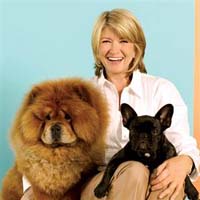 Martha Stewart is the latest big name to appear behind bars–wine bars, that is as the Independent (UK) put it. America's queen of homemaking maven has just launched a new line of wines made by E & J Gallo that might actually do well based on her large following in the related area of entertaining. Even corporations are getting into the act: Microsoft has a wine called the Blue Monster with wine from Stormhoek winery in South Africa and a label by cartoonist Hugh McLoed. It's currently only available for staff and affiliates.
A celebrity hardly even seems like a celebrity these days without cashing in on wine. Lorraine Bracco, Barry Manilow, Jay-Z (more or less), Mike Ditka, various Boston Red Sox players, Greg Norman and many more.
So who's next celeb-u-tainer–or corporation!–to bravely lend their name to a new wine? Have your say in the latest poll–or add your own choices in the comments below.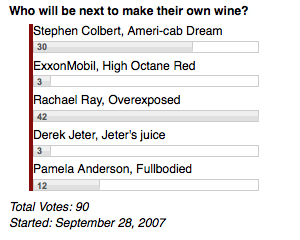 poll now closed
(Photo credit: Fair use is made here of a reduced-size crop from an image in MSNBC attributed to Scott Duncan)