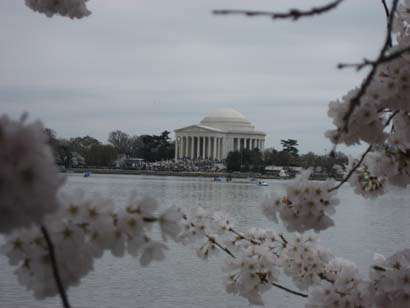 Yesterday, several readers of this site showed off just how smart they are by rapidly answering the question about which state consumes the most wine in America. In fact, it was a trick question because it is our nation's capital, Washington, DC that holds the state wine-drinking crown. But it's not even a state! New Hampshire is the thirstiest state in America with both taxation and representation. Congratulations to Alex on guessing DC and JB for being Jill on the spot with her guess of New Hampshire.
The rate of wine consumption is 7.79 gallons per adult per year for DC and 6.29 for NH according to Adams Wine Handbook 2006. Although those figures are way above the national average of 3.09 gallons per adult American, they are still below France, which has about 14 gallons per person.
For some local perspective on why Washington is at the top of the charts, I spoke this morning with Scott, the general manager at the wine store Schneider's of Capitol Hill.
He pointed to the general trend of wine being increasingly popular in America. But he got specific about local wine consumption, saying that there's a positive correlation between wine consumption and income, noting the amount of white-collar jobs in DC, particularly at new government jobs such as the Department of Homeland Security.
"In this town, it seems that a lot of business is done around wine. More so than anywhere else I've lived. It seems that there's always a bottle of wine open," he said. He also noted the cosmopolitan nature of the city with many people from countries rich in wine tradition.
In his Capitol Hill neighborhood, he said the food choices were improving too with many good restaurants and farmers' markets. "If we were all eating brats, we'd probably be drinking beer." He said there is a lot of demand for investment-grade wines to stock cellars in area homes.
He also mentioned the ability of shops in the District to import wine directly, which means "we have wines that nobody else has." So alluring is the offering, he says, that Virgina and Maryland residents who don't have as many specialty shops load up the car before heading home.
So say cheers to DC for drinking this much wine–especially since the place shuts down in August!