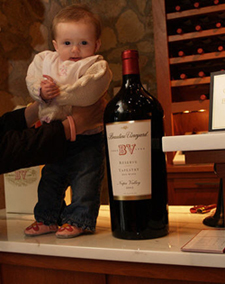 Should kids be banned from wineries? The recent poll on this topic generated a heated discussion and, as of this writing, those against banning kids were ahead by a 3-1 margin.
But I want to see those kids. So let's have a kids and winery photo contest! Cute overload! In fact, for those who live nearer wine bars or wine shops than wineries, it could be kids in that sort of wine environment photo too. Rather than just the usual "glory" that I hand out, this time there will be actual prizes.
Since we have a wine and kids combination in our very own house, I'm drawing on that for the prize. My wife, Michelle, has written four children's books and a baby journal. The prize will be a complete set of her five books, including the not-yet-released newest book in the series! It will also include an Urban Babies Wear Black onesie.
Here are the books: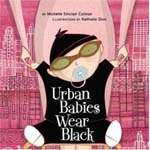 Urban Babies Wear Black
Country Babies Wear Plaid
Beach Babies Wear Shades
Winter Babies Wear Layers — a special pre-release!
The New Baby's Baby Journal–another pre-release!
and…the black onesie!
Am I trying to stick my finger in the proverbial eye of those who voted anti-child pro-banning in the poll? No! Even if you're pro-banning, you can still send in a picture of a kid at a winery. Photoshop is your friend, people! And should you win, you can give the books away to your favorite niece or nephew. Just to sweeten the deal, I'll throw in a box of grape juice.
So here's what you need to do. Send in your photos to me at tyler at drvino dot com by Monday, October 1. I'll put them up on this site. (If you want me to link to your blog, let me know the details–if you want anonymity for your little one, I'll assign the photo a number.) Then during that week, you can vote for your choice and maybe even caption the photos. By Sunday, October 7, the one with the most votes wins the prize!
Urban Babies Wear Black
(image)