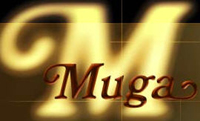 La Rioja, the Grande Dame of Spanish wine regions, has seen the theme of modernists versus traditionalists playing out in winemaking circles. One house that captures this all in one portfolio is Muga.
In a recent blind tasting of 42 Riojas, ranging in price from $10 to $300 a bottle, I tasted through a good portion of the wines from this venerable estate. This producer encapsulates the dual trend in the region, looking both forward and backward. While the I found the new style wines to be overly extracted, the old style wines displayed a beautiful touch.
First up was the white, a straight-forward, relatively high acidity blend, with notes of stone fruits. Competent, but nothing special for a list price of $15 (find this wine).
Next, the Muga rosado (wouldn't rose do better in America if it were called rosado?), the wine I put my "white wine only" Mom onto earlier this summer. It is a very pleasant rosado, with notes of rose petals, strawberry and a citrus splash and a whiff of alcohol on the nose. Good summer fun. (find this wine)
The next wine of theirs that I tried in this blind lineup was the 2003 reserva (about $23; find this wine). The whiff of brett (think: barnyard) on the nose betrayed the old world sympathies of this wine, but on the palate, a vigorous tannin blast and somewhat muted fruit made me think it needs a year or two in the cellar to mellow–or a good decanting.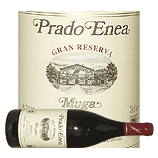 hen we hit the sweet spot, the two wines of the tasting for me. They say that tempranillo, can have a delicacy akin to pinot noir, and that was on display here with these two Prado Enea wines. The 1998 Prado Enea has beautiful aromas of sandalwood, red currant, and dark cherries. On the palate it has elegant notes of rose petals and currants, a faint minerality, mild acidity, and a long finish. The 2000 Prado Enea (find this wine) was very much in the same vein of gran reserva delicacy, but the fruit was drier and richer, thereby slightly less appealing to me. Although these wines might be able to age in your cellar for longer, why bother? Muga pre-aged these for you and they are drinking wonderfully now.
Switching to the more modern style, two vintages of Torre Muga appeared in the tasting. Dark in color, the 2003 (about $75; find this wine) has yeowza intensity, a full throttle explosion of dark fruits, vanilla oak, and alcohol on the nose with chunky tannins and faint sweetness on the palate. The 2004 (find this wine) was even more awkward, with aromas of nail polish remover intermingled with the dark fruits and vanilla of the 2003. Does it need age? Perhaps. But my general thinking about sending something into the cellar for a prolonged period is that going in, it has to be something I'd be interested in drinking if there's even a faint hope of my wanting to drink it coming out in 10 years. Such is not the case with these two wines.
The grand hurrah of this tasting was the final flight that was a study extraction. The Muga Aro 2004 (about $200; find this wine) stopped me cold with its staggering, full-bore assault of hunks of oak tannin firing down on top of dark fruits. Really, the Aro is an incredibly odd, not integrated wine even among this flight of new style wines (by comparison, the Allende Aurus 2004, a similar price, had a certain Rhone-style elegance under its admittedly bold styling; find aurus).
So there you have it: Rioja in a nutshell, or one bodega actually. Unlike stalwarts like Lopez de Heredia who remain resolutely traditional, Muga has, over the past decade as with many other houses, grafted some modern style wines onto their existing ones. In this case, I'd go with the old.
Bodegas Muga web site (with panoramic camera in each barrel room)