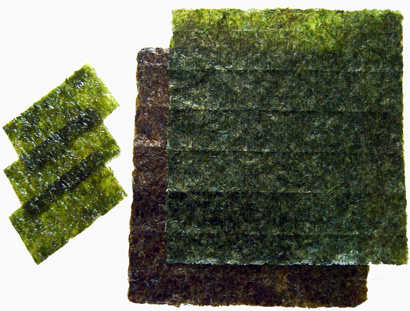 What follows below is an actual reader mail that crossed the transom last evening. Laver, similar to nori, is an edible seaweed high in sodium and iron found on rocks off the coast of Scotland and Wales. Mmm, it really is an impossible food-wine pairing! But her relationship is apparently at stake! Roll the tape:
Dear DR. Vino:
I'm a korean girl, and I have a boyfriend from france. Everything was fine until recently,we fought several times–upon my favorite
sneak — laver (dried & seasoned seaweed). Each time i eat it,he thinks i'm eating a piece of paper. And when i asked him to try some,he just stuck his nose up in the air and replied," French people never eat anything that couldn't pair with wine!"So i tried and tried,but no matter it's a red or a white,it seems to just bring the "fishiness" or "sea stink"out of laver instead of its deliciousness. Is it really an impossible food to pair with wine? Or is our relationship unable to overcome our cultural differences?
-A frustrated girl that desperately needs your help
Help out this reader with your comments below!
(image)