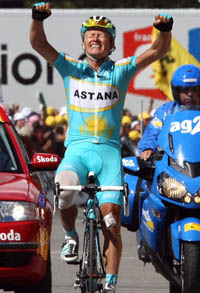 "Vino bags stage honors"
"Tenacious Vino surges to another stage win"
"Vino, like a good wine, improves with time"
You could be forgiven for thinking these headlines were about my illustrious cycling career (come on–I went mountain biking over the weekend!). In fact, these are some of the headlines appearing today after the Kazakh Alexandre Vinokurov, aka Vino, won the stage in the Tour de France, his second win in three days. A pre-race favorite, he's out of the competition for overall leader now because of an early crash and a poor performance yesterday.
Congratulations, Vino, you're doing all of us Vinos proud. Hopefully, if there's any suspicion with his being "juiced," it would just be with wine!