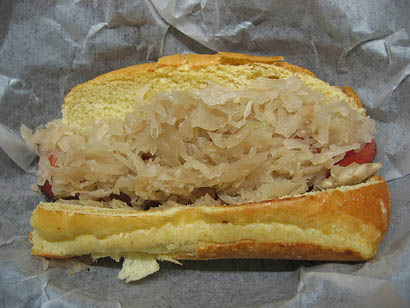 The good people at Wines of Alsace held a press event in the Bronx yesterday. It allowed me the opportunity to ponder a question I have long overlooked: which wine goes with hot dogs?
The venue was in fact the venerable and soon-to-be-demolished Yankee Stadium. Bud Light be damned–the wines available were, naturally, from Alsace!
So for you, dear reader, I broke a decade-long fast and had my first ball park dog, loaded with sauerkraut and mustard. It's a crazy food that comprises of salt, fat, some meat-like product, nitrates, and probably much more. I wasn't about to eat 66 of them like that American who brought home the glory earlier this month in other "sports" news. (As a point of interest, there was a hot dog afficionado present who informed me that, indeed, the hot dogs consumed in such a contest have to "stay down" and if they come back up, it is a violation known euphemistically known as a "reversal.")
Hot dog in hand, I surveyed the Alsatian wines. With their good acidity and minerality, they seem like a good pairing overall for the dawg if you're not doing the classic beer pairing. The most effective was the Albert Mann, cremant d'Alsace, brut nonvintage (about $19; find this wine). It has bubbles, like beer! But more importantly, I found the zesty citrus notes worked really well with the dawg.
Moving up the wine richness scale, I found the heft of the Domaine Ehrhart, "Rosenberg," geurztraminer, 2004 (about $20; find this wine) to work well too. The faint spice of the wine was somewhat overwhlemed by the "zesty mustard" but the refreshing core of acidity and minerality remained a good complement. The Albert Boxler 2004 pinot gris (about $30; find this wine), a rich, sweet and powerful wine seemed a little too flabby with the food.
The Hebrew National dog was great going down but an hour or so later I found it had an unpleasant, um, "finish" (safe for work: no "reversal"!). The finish of the Boxler wine lingered longer and was much more pleasant.
Maybe this should be an "impossible food pairing" post, too. A double-play, if you will. So which wines do you like with hot dogs? Vega Sicilia?
(image)