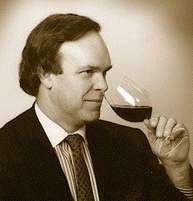 OK, people, did you really think that numerical wine ratings were objective? This gem has just been transmitted to the Dr. Vino Mobile World Headquarters, from Robert Parker's interview earlier this year with the Naples (FL) Daily News:
For most people, I think, giving 100 points is almost setting up a situation for the people who are reading it … to be disappointed because you have somebody who's well-known and has credibility saying it's perfection in wine. And there's always the issue: Is there perfection in wine?

I've always tried to explain it saying that, you know, I'm a very passionate person and an emotional person. I really think probably the only difference between a 96-, 97-, 98-, 99-, and 100-point wine is really the emotion of the moment. (emphasis added)
He admits elsewhere to being a supertaster, but here he says he's no cyborg! There you go: relativism in ratings! That's what I just mentioned in the comments section to Jay Miller, a critic at the Wine Advocate. Join the fray with your comments! Or see Jay Miller's comments on the science of olfactory analysis.