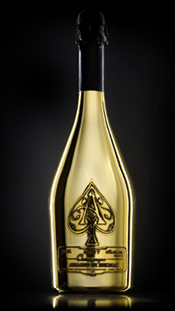 OK quick – who is associated with the champagne Armand de Brignac, aka Ace of Spades, aka Gold Bottle? if you said the hip hop-preneur Jay-Z then you get only partial credit. The producer is in fact the Champagne negociant, Cattier.
I spoke with Alexandre Cattier last week at Vinexpo about the wines that he provides to the US market, sold mostly through nightclubs and a handful of stores (find this wine), where the prices range from $300 – $375.
About the opportunity to develop the Ace of Spades, Cattier told me "It's incredible–it's one of the occasions that you have once in a lifetime as a negociant."
I have not tried the wine myself and there was none offered, I might add, since Cattier said that the production was "very limited." He did tell me that the wine is a brut nonvintage. Hmm, a "limited" brut NV?
Anyway, the brand is expanding. I saw samples of the new bottles, which will now include a shiny pink embalmed brut rose NV and a shiny silver emblamed blanc des blancs brut NV. Feel free to poke around the Cattier web site and see their existing line that includes a rose NV and a blanc des blancs NV. These are available in the US from $25 – $55. (Find these wines)
Related:
"Reader mailbag: finding Ace of Spades Champagne"
"Jay-Z puts an Ace in play"