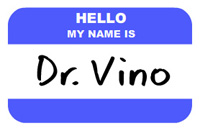 What a better way to beat the heat than an offline get together? We're overdue for a meetup!
So push back from your desks and roll on over to Il Posto Accanto next Thursday as we continue our slow-motion pub wine bar crawl of NYC. Kind of short notice this time around but I hope to see many of you there.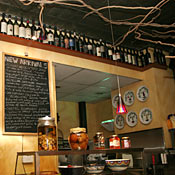 Il Posto Acconto is a charming–dare I say, rustic–wine bar next door to the restaurant Il Baggatto in the East Village. Both are owned by la famiglia of Gabrio Tosti, who in turn owns the excellent boutique wine shop, De Vino. (Since he'll be there, we'll have to see if we can get him to to do that thing that he's doing in the photo on his blog.) Other NYC bloggers, other NYC wine drinkers are all welcome to sample the 30 types of vino available by the glass.
In case it's your first time to join, the meetup is simply a chance to meet in the real world, off the internet, with wine enthusiasts, in particular, readers of this site and people who've taken my wine classes at the NYU. There's no charge other than what you order at the bar. Consider it a happy hour. Or two.
So get your weekend started with fellow vino-philes! Post a comment or drop me a line at tyler [at] drvino [dot] com if you can make it. I look forward to seeing you there!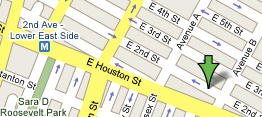 When: Thursday, June 7, 6:00 – 8:00 PM
Where: Il Posto Accanto, 190 E. 2nd St. (near Ave B)
How: F, V at Lower East Side-Second Ave.; J, M, Z at Essex St.
Who: you – and feel free to bring a friend!
Il Posto Accanto, NY Mag