I made the pages Sports Illustrated! Whodathunk I'd be in SI?!? All those "curls" with the wine glass must have paid off. 😉 And, no, it is not the swimsuit issue.
Last week I sat down with reporter Lisa Altobelli to taste three wines whose profits benefit various charities associated with the Boston Red Sox. As a Cub fan (why bother?!) I may have been the only non-partisan taster in New York.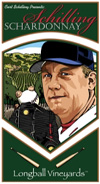 The Chilean wines were the Schilling Schardonnay, Manny being Merlot, and Caberknuckle, selections from Red Sox stars Curt Schilling, Manny Ramirez (described as "a budding enophile") and Tim Wakefield. Check out the May 28 issue, p. 26 for my detailed comments but I'll tell you here that is the order that I preferred them. Even though they won't be available to Red Sox Nation and beyond until next month, 264,000 bottles have already been pre-sold.
And if you're stopping by the blog for the first time because of the story, then consider subscribing to the site's feed or monthly email updates on the right. And feel free to poke around and see some wine picks or explore any of the categories on the first sidebar, including wine and sports!
"A very good year: three Red Sox enter the world of wine" [pdf, from SI]
UPDATE: if you're looking to order the wines, surf on over to Charity Wines to order directly. They say specific stores will be posted soon. Or try wine-searcher for the Shcardonnay, Merlot, or Caberknucle.