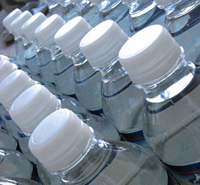 As I was watching planes take off and land last Friday at LaGuardia, I contemplated the folly of my bottled water ban. Jets roared overhead burning carbon and spewing emissions and I am doing what–not drinking a few bottles of water in the name of carbon neutrality? My ban seemed so piddly.
But that doesn't mean it is easy! I had to remembered to bring my water bottle with me, filled up from home. Then I had to chug it in line at the TSA to go through devoid of fluids. Then fill it up again on the other side of TSA at the drinking fountain.
Nor have I been without transgressions–yes, I fell of the water wagon in less than a week! At a lunch, an overly enthusiastic waiter poured me a glass of Pellegrino. Then I had the ridiculous choice of throwing away perfectly good water or drinking it. I drank it and asked for tap water next time. As the level of that water lowered, I got refilled with Pellegrino.
It would be so much easier to drink bottled water at will and just pay $15 and buy some carbon offsets…