Landmarc at the Time Warner Center is Marc Murphy's brand new bistro, an extension of his location in TriBeCa. The math is different: he's shooting for a high volume model to pay the hefty rent. By what I saw there yesterday, that shouldn't be a problem.
Home to many top restaurants, the Time Warner Center is a highly polished locale (btw, I saw Time Warner CEO and vineyard owner Richard Parsons ambling toward the Mandarin Oriental as I got off the escalator, so there really is Time Warner there somewhere lest anyone think it was simply naming rights). It needs Landmarc TWC since the Bouchon Bakery has all the atmosphere of airport dining and Whole Foods is a grocery store, albeit a nice one.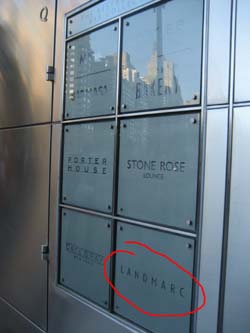 Landmarc's 300-seat environment is spacious and stylish. There's a big, curved bar in the center, a private dining room on one side, a waiting area with low, wood-block stool thingies at a long table, and some cool, semi-circular nooks for semi-private dining.
The menu (available here) is similar to the TriBeCa location with salads, daily special pastas, and steak in a variety of cuts.
But the wine is why I went. The word on the street is that it is priced "near retail." Not always true. While it is affordable and interesting, it's not always near retail. For example, I bought the Vavasour Sauvignon Blanc from New Zealand last week at a store for $18; at Landmarc, it's $29, or 50 percent higher. The D'Arenberg Footbolt 2004, a $13 retail wine, is available for $28. The Dr. Loosen "L" 2006, an $8 wine a store, is available for $26.
But what all those wines have in common is being reasonably priced. Wine under $30? Many. Wine under $50? Practically the whole list. Though there is a 1995 Pétrus for $1500 for those who mistakenly wander over from Per Se. And the Ridge vertical of Monte Bello (1990, 1991, 1992) sounds interesting, even for $675.
Along with affordability, the list scores big points in my book for diversity. Pinot noir from Tasmania. Arneis from Giacosa in Piedmont. Clos Sacrés from Nicolas Joly in the Savennières. Garretson syrah, "The Caric." Fun stuff.
And the half-bottles are a fantastic idea. They say the list changes frequently, but here are a few of my suggestions from the half bottles that I saw yesterday:
Pieropan, Soave Classico, $14 Soave doesn't have a great reputation as a whole, but this could change your mind. A great aperitif wine. (find this wine at retail)
Domaine Sorin, Provence rosé, $14. This is a wonderful dry rosé from a biodynamic (organic plus) producer. Great acidity makes it very food friendly–try with the calamari fritti. (find this wine at retail)
Nicolas Potel, red Burgundy, 2005, $16. A fantastic vintage, a top producer, this is a no-brainer for entry-level Burgundy character. (find this wine at retail)
Terrabianca, Croce, 2003, $26. Hugely tannic, fun wine to try with a cheese course. (find this wine at retail)
A final note: if you end up ordering more wine than you can finish, thanks to New York State's doggy bag law, you can ask them to recork it, bag it, and take it home (providing that you ordered a meal).
Related: Landmarc, web site, Time Warner Center, 10 Columbus Circle, 3rd Floor. 212-823-6123
"Battle for the bottle at Time Warner Center" [Dr. V]
"Eater Inside: Landmarc TWC" with photo [Eater]