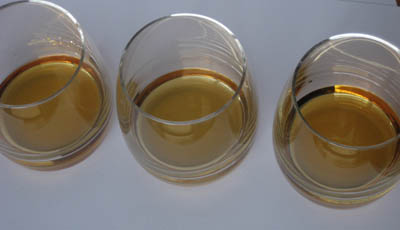 Do you know your spirits? Try tasting them blind. Brown bag optional.
Taking a page from the blind wine tasting, we've been subjecting dinner guests to blind spirits tastings recently.
I pour three dark spirits of similar age into three glasses. Telling them apart by color is nearly impossible. The aromas tip off a lot of people. And on the palate is usually a dead give away.
It's a fun way to sharpen your understanding of what cognac, whisky, and aged rum taste like. Here are the three that I've been pouring:
Chateau Fontpinot (Frapin), XO cognac (about $90; find this cognac) *
Bowmore, Islay, 18 year old whisky (about $80; find this whisky) *
Rhum Barbancourt, Haiti, 15 year old (about $35; find this rum) **
* These spirits were samples
** This spirit was purchased at duty free