A couple of months ago, when it was wintry outside, I read a Bloomberg story by John Mariani about the "lovable mongrel" Chateauneuf-du-Pape. I probably had a fire going and old vine grenache, mongrel version, sounded like the perfect thing. Mariani detailed some wonderful sounding wines from Sabon and even one of my perennial faves, the Vieux Telegraphe. But he concluded with this homage for a Chapoutier:
Finally, my favorite of the evening was M. Chapoutier's 2000 Le Bernardine ($38), made from an estate planted exclusively with grenache. It has a blossoming bouquet that's almost as wonderful as the complex flavors of the wine. There's the spice that a good southern Rhone wine should have and enough tannin to ensure a very long life, with each year revealing more and more flavor, layer by layer.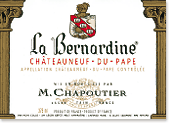 Yummy! I had to order some. So I fired up wine-searcher, and found a retailer who had the wine for a fraction of the price that Mariani quoted. I called the store and asked where the wine had been since release from Chapoutier, presumably going on four years now. The clerk said that it had just been released from the distributor and was properly stored. I bought two bottles.
I poked around on the retailer's site and found they had the 01 Vieux Telegraphe (find this wine). Mariani described the previous vintage VT as "not ready to drink…The use of large, old oak barrels assures the wine's big tannins and longevity, and it should be a bold beauty when it matures. It's well worth cellaring a case." So I figured why not take a flier on the 01, also a good vintage.
Fast forward a few weeks. We had some friends over and they were thirsty friends so we popped open the 00 Chapoutier with great fanfare. It was cooked. Not corked, mind you, but cooked. As in stewed fruit, raisiny, and over the hill. Where was the flavor, "layer by layer"? I got just one and it was old and tired. I uncorked an 04 Napa cab and everyone reveled in its youth and vigor.
Fast forward another few weeks. Mrs. Vino and I thought we'd check out the 01 Vieux Telegraphe and I again presented it to her with great fanfare and high hopes. But pouring it into the glasses I saw that it was brick red in color, usually a hue reserved for vintages from the 20th century, not the current one. Nose: stewy and cooked fruits. Palate: more one-dimensional raisins. Bottle and glasses were quickly relegated to the side counter. I was dispatched to get different wine for dinner. So stung was I by the old and tired, I grabbed the bottle I had most recently purchased a few days before, a beautiful 05 Savigny-les-Baunes premier cru by Ecard (find this wine). The elegant wine was quickly polished off.
Later, I called the store where I had bought the Chateauneufs, more mongrel than lovable in this case. Fortunately for me, the store manager was very nice. He said that they have been selling a lot of that Chapoutier and had no returns but would be willing to give me a store credit for both that and the Vieux Telegraphe.
So what can we take from all this?
1) Returns are hard for wine. Local or long-distance, you are really at the mercy of their policy and goodwill.
2) I was glad that I hadn't rushed to buy a case of either wine from this vendor. I may try to pick up a bottle of each at a future date from other stores to see how the wines are holding up from other retailers but I imagine they are fine since Mariani liked his bottles. I had never been to nor ordered from that store before. For all I know, despite my asking, the wine may have been sitting under a spotlight for a few years.
3) Buying from a shop you don't know means that you are just some other schmo. If you buy more from one store, they are more likely to want to keep you happy since you are a repeat customer. I hate to say this because I am a miserly wine buyer and generally know what I am looking for so I love the price-leveling function of internet searches. But doing so does take on some risks, including shipping. And you might not get the exact bottle that you might have selected for yourself in the store.
4) The lowest price may not be the best especially when the vintages are slightly older (generally, the older the vintage the greater the risk so the provenance of the wine is more important–one of many risks buying older vintages). But even with younger wines, they could be left on a storage dock for a week in August or otherwise improperly handled.
Wine buying, it can be an adventure. Deciding which wines you want is sometimes the easy part. But once you have found your prey, the how and the where of the chase can affect the trophies you bring to your table.
Related:
"Caveat Emptor Wine Co." [Dr. V]