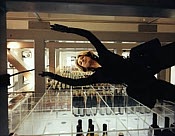 "Housecleaner, boyfriend arrested after brazen wine heist"
My hopes for a Catherine Zeta-Jones movie called "Inside Job" crashed and burned after this news story about the recent heist in Atherton, CA. Catsuits and wine will remain the sole domain of Aureole in Vegas.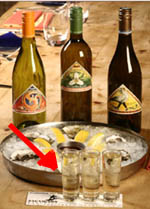 Parody becomes prophecy
On April Fools Day I posted a spoof about a new wine bar that serves wines based on point scores including a flight in two ounce glasses. Shockingly, a commenter pointed out that one such points-based wine bar already exist in California! Now there's news that Sauvignon Republic, a brand that sources sauvignon blanc from three continents, is offering on-premises establishments two-ounce shooters for their flights. Eegad! Next year I'll have to be much more outrageous.
Distiller-in-chief
While Thomas Jefferson had a love for fruits of the vine, it turns out that his predecessor and Father Of Our Nation, preferred the grains of the plains, specifically, rye. Lost among the stories of chopping down a cherry tree and wooden teeth is the fact that George Washington was also the biggest distiller of his day. Now $21 million reconstruction (paid for funded in large part by the Distilled Spirits Council of the United States and the Wine and Spirit Wholesalers of America) at his home in Mount Vernon offers visitors the chance to see steps in the distillation process–and even buy a bottle of the "ardent spirit" at the gift shop. [Courier-Journal]
Wrap it up
Wine corked? Try cling wrap. Crinkle and put in carafe. Pour wine in. Shake. Voila! No cork taint. But mmm, love that cling wrap flava! [LA Times]