Five years ago, Randall Grahm staged a funeral for the cork. The great marketer and label designer behind Big House Red and Ca del Solo among other brands staged a processional for his last cork at Grand Central Station of all places. From then on, all of his wines have been bottled "en screw."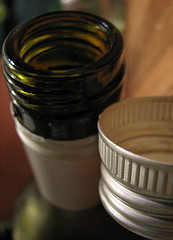 Since enjoying wine is in many ways a race against time (and oxygen), how a bottle of wine gets sealed is of utmost importance. Corks have their detractors since they can introduce the noxious chemical TCA that makes wines "corked." Further, the pieces of tree bark can lose their elasticity as they age letting in wine's nemesis, oxygen.
Screwcaps, by contrast, can provide such a tight seal that no oxygen gets in and there is no problem with TCA. Many proponents of screwcaps (or Stelvin closures, if you must) might suggest that the only thing standing between them and domination of the wine world is consumer resistance since wines bottled "en screw" have typically been seen as more downmarket. And what would you do with your $100 corkscrew if you only had to twist the cap off?
Screwcaps appear to be so controversial with their partisans for and against, you might think it impossible to find a producer who goes both ways. Fortunately the Wine Media Guild was able to find several examples of the same wines bottled under both closures for the March tasting.
Michel Laroche attended the tasting as speaker to share his experiences as well as several of his wines bottled under both closures. Laroche is a fifth generation winemaker from Chablis who has run his family firm since 1967 and now also makes wine in the Languedoc, Chile and South Africa.
For Laroche the transition to screwcaps started in 2001 when an unacceptably large amount of his wine was sold unknowingly with TCA that came through corks. Placing the estimate at 10 percent of his production that year, he expressed frustration because he said that consumers never complained so he didn't know if they thought that flawed wine was actually his style.
So in 2002 he took action. He set up an alternative bottling line and bottled three percent of his production under screwcaps. He bottled the same day and from the same vats. He brought four of his wines that run the gamut of his line for us to taste, with a bottle under each closure.
The difference was shocking. With screwcap, the 2002 Chablis St. Martin (about $25; find this wine) was still a youthful, flinty Chablis without a whole lot of intrigue but solid and fresh. The cork closure for the same wine, by contrast, was older tasting with more signs of oxidation. Everyone save one person at the tasting preferred the screwcap.
Moving up to the Chablis premier cru les Vaudevay (about $33; find this wine), the screwcap bottling was lovely, fresh with lively citrus zest and minerality while the cork was much more advanced in its maturation. Not past it, but not nearly as much fun. The screwcap was the group favorite by a wide margin.
With the higher-end cuvees, the group found more parity, if not a slight preference of cork. For the Chablis Grand Cru les Blanchots (about $60; find this wine) I preferred the screwcap bottling since it had more intrigue than the cork, which I found softer. The Chablis Grand Cru les Clos (about $75; find this wine), an elegant wine, showed well under both closures but the softness of the cork bottling was more appealing to me in this one as it added more layers of complexity.
Interestingly, for these older wines, Laroche said that 30 – 50 times more oxygen can pass into the wine with cork than one with screwcap. So for young wines, meant to be drunk quickly the main advantage is reducing the chances of TCA. But for older wines, the cork shrinks and more oxygen can pass through, altering the wine sometimes for better, sometimes for worse.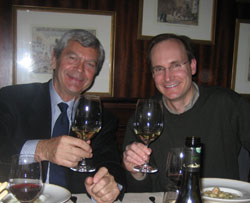 "What I don't want is variation," Laroche said. When he opens a case of 15 year old wines for a party, one bottle will invariably be corked while the other eleven bottles will be in entirely different stages of evolution. His breakthrough moment came in drinking a 1980 Australian Riesling that still tasted fresh about 20 years after bottling.
Laroche has learned more about how to use the technology. He has played with the joints and closures. And his more age-worthy wines now spend longer in the winery aging before bottling since once in the bottle, they do not age.
We had several other wines there as well with both closures. There was a Jean-Claude Boisset Bourgogne chardonnay 2005 (find this wine) that has so much oak that the type of closure was not distinguishable to me. The Boisset Bourgogne pinot noir 2005 (find this wine) oddly tasted more Burgundian to me under screwcap. I preferred the Domaine Chandon Prestige Etoile Brut MV (find this wine) slightly better under the beer bottle top known as a crown cap.
What's the future of screwcaps for Laroche? In 2002 he had just three percent bottled under screwcap. By vintage 2003, he had 33 percent. And by vintage 2005, he had more than 60 percent including all the wine going to Canada, Japan, and the UK. If you like this trend, ask for screwcaps since Laroche says he's just following "the result of market demand."
(image #1; image #2 Dr. Vino)