The most frequent question I get via email from readers of this blog runs something like this: "I found _____ (wine name, vintage, quantity) in my ______ (Great-Aunt's/grandmother's/own) ____ (basement/attic/garage). How much is it worth?/Where can I sell it?/Is it drinking OK?"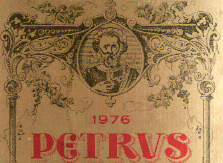 I told this to a friend the other day and he said, "But are there any good names there? It might be worth a chance." Then we devised a business idea for Caveat Emptor Wine Co., specializing in wines of unknown provenance. "The wines weren't ours, but the risk is yours" could be the tag line. Needless to say, we have not contacted an an attorney to start the corporate filing yet.
But some other notable collectors have contacted their attorneys. And they're not looking to start an LLC. They're looking to stop fraud in wine auctions and have the wine's seller or a broker accept responsibility. Needless to say, the main auction houses do a better job at assessing provenance than Caveat Emptor Wine Co. But how much they should stand behind their lots (and cases of wines sold through fine wine stores) is a question that is now getting a public airing before a grand jury in New York City.
The Wall Street Journal reports on page one that federal prosecutors have issued subpoenas to Christie's, Zachys and some rare wine collectors in a probe into wine fraud at auction. In what might cool off the red-hot secondary market for fine wine sales, successful businessmen and wine collectors Russell Frye and William Koch are also taking action. Roll the tape:
Mr. Koch filed a civil suit last year in federal court in New York, alleging that a German wine merchant, Hardy Rodenstock, forged bottles of wine he claimed had belonged to Thomas Jefferson and had been discovered in a bricked-up cellar in Paris. Mr. Rodenstock also claimed to have other extremely rare wines, including a cache belonging to Czar Nicholas II of Russia, Mr. Koch alleged. Those allegations were detailed in September in a page-one story in The Wall Street Journal. In a Jan. 19 court motion, an attorney for Mr. Rodenstock denied the claims and deflected responsibility to the merchants who sold them directly to Mr. Koch.
"It's not just Rodenstock," Mr. Frye continued in the WSJ article. "Counterfeiting is a big problem, especially in the high end. These networks need to be exposed," and merchants must be accountable, he said.
But fraud is just one problem, estimated at five percent in the WSJ story. So add to that, say, five percent corked, x percent improperly stored, y percent drunk too late–and small wonder the excellent old wines are just so…excellent!
Related:
"U.S. Investigates Counterfeiting Of Rare Wines" [WSJ, sub]
"WSJ: fund with wine" [Dr. V]
"Wine heist, part trois" [Dr. V]
tags: wine | wine collecting