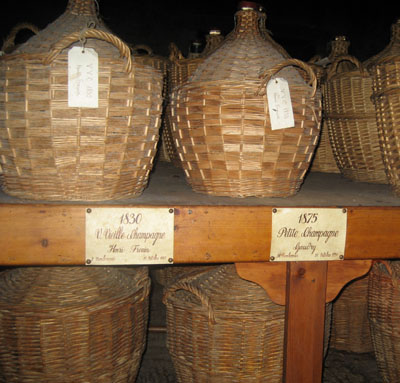 Perhaps you've read about–or even tried–cognacs that are over a century old. But given that it can't last more than 55 years in the oak barrel, what's the next step?
Demi-johns. These large glass containers, shrouded in wicker or burlap to keep out the light, protect the cognac after the transformative magic of the oak barrel. As Dominique Touteau, cellar master at Delamain, put it to me, the cognac is "mummified" in the bottle. Unlike wine, there's no such thing as bottle aging in Cognac. It simply maintains the properties acquired from the barrel, the vintage and the growing area. Even though the cellar for the demi-johns is airless and timeless, its not really a tomb as much as it is a preservation chamber. Cryogenics, if you will. They are often stored in an inner-sanctum known as the "paradis," translated as paradise or Heaven. The term sets the bar high, but then again, these old cognacs can be ethereal.
The demi-johns, or Dames-Jeannes as they are known in French, are stored tightly sealed, upright and out of the light. Every ten years they are given a new cork.
When the cellar master deems it the right time, small amounts of the cognac in demi-johns can be added to the finest blends. I saw one at Martell that was supposedly from 1830, which is mind-blowing to think of the history it's seen–or not since it has been hidden in a dark cellar.
Stay tuned to find out my tasting notes from the oldest cognac I tasted on my trip! (Bonus points for anyone who can guess the vintage in advance)