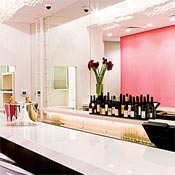 It's officially winter (although not a flake has fallen). There's no better way to ward off midwinter blues than socializing. So open your calendars–we're having an offline! January 11, starting at 6 PM.
We will go and check out Varietal, possibly NYC's hottest new wine destination. With over 75 wines by the glass, there will be plenty to choose from.
One highlight is the "master sommelier" flight of tasting sized pours. This trio of wines is served blind–you correctly guess what the wines are and the flight is on the house! I'm up for the challenge, though fear it will turn into a round of "stump the chump."
Greggory Hockenberry, friend of the blog who took one of my NYU wine classes last fall, is the owner of Varietal. Blog readers and everyone who has taken a class with me is welcome to attend–we can toast Greggory's success and mingle with fellow vinomaniacs! If I haven't met in person you before, I hope you can make it!
Drop me a line if you think you'll be able to stop by for a glass or a flight. Hope to see you there! Thursday January 11, starting at 6 PM.
Review: Varietal [NY Mag]
138 W. 25th St., New York, NY 10001
nr. Seventh Ave.
212-633-1800