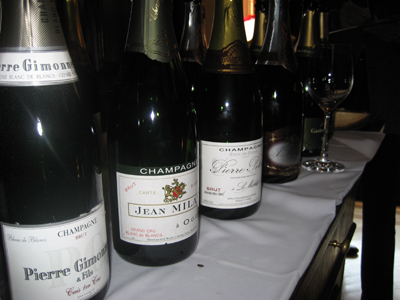 LVMH, the global luxury goods company, has a 60 percent market share of champagne sales in the US according to the IMPACT databank 2005. Their brands include such names as Veuve Clicquot, Dom Perignon, and Moet. They're big.
Moet, like the other grandes marques, has been fabulously successful thanks to mostly buying other people's grapes and then blending wine. In fact, the brand management has been so successful that the big champagne houses are among the most successful brands in the wine business: wide name recognition, relatively high volume, and selling at a high price point. They've hit the economic sweet spot. Moet sold 600,000 cases in 2005 in the US and the average retail price of each bottle was $43.50 according to Impact.
On the other end of the champagne continuum is a merry band of small growers. No, they're not an elf-like 3'9″–they just don't make a lot of bubbly. But that's also a point of difference. Like a traditional "chateau," they grow their own grapes and make their own wine.
Terry Theise, known for importing fine wines from Germany, Austria, and more recently, Champagne, spoke to a lunch of the Wine Media Guild last week about his "grower champagnes." His spiel for grower champagne rests on three elements: value, ethics, and taste.
He argues that without the ad budgets to place products in James Bond movies, grower champagnes offer more attractive values. (But what about the economies of scale that the grandes marques employ?) And buying "farmer fizz" means supporting small family businesses. And they taste better he says.
While I was ready to be wowed, I thought that his range of champagnes was competently done but I couldn't help but being a little disappointed. After all, I was starting to dig his logic. (My tasting notes to follow.) I should add that Theise is not the only importer of boutique, grower champagnes.
Apparently the economic sweet spot is not the only thing that is sweet about the big houses (Theise doesn't like many of the grandes marques but he holds a lot of ire for one unnamed house in particular.) He reported to the Guild that he had done some market research and bought a bottle of the same label at shops in Paris, London and New York. All were freshly received in the shops. He sent them to the lab for chemical analysis. These were his findings, in his words:
They were different in acidity, they were different in sweetness, they were different in pH. They were not the same wine. It is an open secret in Champagne: the British get the oldest tasting stuff–not necessarily the oldest stuff. It's because they usually put a little Spanish brandy in the dosage liqueur to give it that patina of antiquity…The French get the youngest stuff. The Americans get the sweetest stuff…We get the sweetest stuff over here that is pretty well known. Most of the big commercial brands have their dosage up tickling the legal limit.
"So what?" someone asked. The different bottlings for different markets is not inappropriate, Theise relented. "What's inappropriate is to lie about it."
For his merry band of growers, the trend is toward dry bringing down the sweetness, sometimes even bottling without dosage. (See my backgrounder on sweetness in champagne.) Theise and his growers occasionally argue about how dry to go. Apparently they are wanting to take the sugar levels down every year, while he tries to get them fractionally more. He said adding sugar in champagne, like salt in cooking, should not be perceptible itself but when it is present in enough quantity it makes the other aromas more pleasing or "awaken," in his phraseology. "The issue is balance," he said.
If you want more fighting words from Terry Theise, surf on over and read his provocative catalogue (pdf). And if you enjoy his wines, you are advised to buy them this month. Starting in January, Theise said, he's raising his prices because his costs are going up thanks to the declining dollar.
tags: wine | Terry Theise | champagne