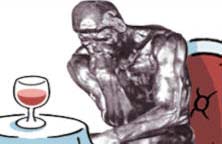 I was thrilled that Eric Asimov, chief wine critic of the New York Times, came so speak to my NYU class last evening. He is a super-nice and knowledgeable guy and it was fun to talk with him about the mechanics of his job as well as some trends in the wine world. We also tasted five wines together that he had written about in some of his recent stories.
Asimov told us about the three avenues for his writing. The first is the traditional column about a theme or an issue where he often journeys to a remote corner of the wine world.
The second is the Wines of the Times tasting panel, a thematic tasting that runs every other week. Four tasters including Asimov, another member of the Dining section and two guests, meet at noon in the offices of the Times every couple of weeks. They taste about 25 wines blind from a certain theme over two hours. The wines are purchased by the Times and not sent as samples from producers or distributors. This panel format is useful for covering a lot of ground and offering practical wine picks for readers.
Asimov is ambivalent about the panel format, but seems to have made peace with it for the time being. That includes the star reviews. But at least they are better than scores, he said, since scores seem to split hairs. Is there really that much of a difference between an 87 and an 88 he wondered? I was interested to learn that even though the tasting panels have usually four tasters, Asimov writes the tasting notes and awards the star ratings himself.
The third avenue for his writing is his blog, The Pour. It is a contrast to the panel since it is free of tasting notes and offers Asimov's more intimate experiences, drinking wines a few at a time and with friends and food.
In closing, one student asked Asimov what is a bottle of red and a white that he would bring to a friend's house for dinner. He said it depended on several factors. Most wine gifts to hosts go directly into the host's cellar instead of on the table that evening he pointed out. But he did offer specific advice on what to bring if you ever dine chez Asimov: champagne.