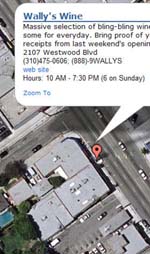 If you are spending your Thanksgiving in greater LA, then you'll no doubt be looking for a worthwhile shop to get some vino. Fortunately that won't be a problem since LA has some of the best wine stores in the country. And now I have plotted them on a new, interactive map for your wine-loving convenience.
Click each pin for a brief description of the shop as well as contact info and hours. Zoom in, pull back, even switch to satellite view and see which celebrities are there right now–or if there's space in the parking lot! (OK, it's not real time info but that would be helpful!)
I haven't included any supermarkets nor the various locations of the chain BevMo. I figure that wine isn't the main reason reason that people go to supermarkets, as good as their selection might be. And for BevMo, I got to tired to plot their locations so you can just go to their site.
I offer a major tip o' the hat to Dan Fredman who helped me get my orientation in the wine geek's LA.
http://www.drvino.com/losangeleswineshops.php
tags: wine | wine stores | los angeles | google maps